Hundreds of business customers are temporarily - and in some cases permanently - losing their existing phone number when they migrate to the NBN.

Telecommunications Industry Ombudsman says "systemic" problem
Between July and December 2017, the Telecommunications Industry Ombudsman (TIO) received 661 complaints from residential consumers and small businesses about telephone number problems relating to services delivered over the NBN.
The complaints mirrored the NBN rollout process (see illustration below).
In October 2017, after noticing a pattern of complaints about the issue, the TIO wrote to 23 retail providers of NBN services to better understand the circumstances behind the complaints and what providers believed to be the underlying causes.
The results were published in a TIO report (pdf).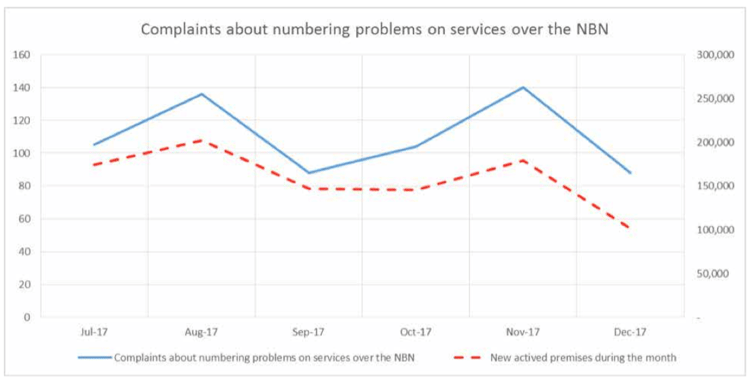 Key Causes of Phone Number Loss
The TIO categorised errors resulting in phone number loss into two segments
Consumer action or inaction
Provider error
Businesses expect to retain their existing telephone numbers when moving to the NBN, but some are not aware that they need to take action to ensure they retain their existing telephone number.
Business may also be unaware that when a service is disconnected, the existing number cannot be transferred, and that they can lose their right to the number.
Common reasons arising from consumer action or inaction
The business does not apply to migrate to the NBN before the date the existing network is switched off

The business provides incomplete or incorrect number transfer details when applying to migrate to the NBN, or does not specify the existing telephone number they want to keep
The business cancels their existing service before the NBN connection is completed
Common reasons arising from provider error
Staff and system errors by providers

If the consumer is changing providers, the existing provider disconnects the service before the NBN connection is completed

Increased complexity of NBN connections requiring interaction with the existing copper network
Recommendations from the TIO
The TIO has made four recommendations to NBN service providers to prevent future incidents of phone number loss. They are:
1. Amend the NBN Order process by:
Requiring consumers to opt-out of keeping their existing fixed line telephone numbers (including any fax number) after NBN migration, rather than opt-in
If the consumer has not opted out, requiring the consumer to provide the current 10 digit telephone number they wish to retain before the NBN service order can progress
Providing clear advice for a consumer to keep their current landline service active until the new NBN service is connected, including providing a warning that the consumer will lose their telephone number if they request a disconnection prematurely
2. To reduce confusion and to promote action by consumers, retail service providers should ensure their advice to consumers about a particular location's existing network switch-off date is accurate and consistent with nbn co's advice
3. Before disconnecting an existing fixed line phone service as part of migration to the NBN, retail service providers should have procedures in place to confirm that the consumer has an active NBN connection
4. Retail service providers should enhance communication pathways between each other to:
reduce the incidence of the loss of telephone number during the number transfer process
facilitate the retrieval of disconnected numbers
Loss of Phone number is only one pitfall of nbn migration process
Transitioning to the nbn is not for the fainthearted. It will involve detailed planning, vigilant project management - and lots of time on the phone to nbn Co. and your chosen service provider.
VoicePlus has written a Best Practice Guide to help business migrate. One chapter in the Guide lists the 7 most common ways a business migration to nbn can go pear-shaped. Here is number 3.
You cannot modify an nbn order after it has been submitted
A nbn order is not able to be modified. If you discover that you have forgotten to order a fax line (common), or you discover your phone system is not compatible and needs to be upgraded requiring a different setup (also common), or you have replicated your current setup and then discover that you have a number of lines that you do not require (very common), you have two choices:
a) you can go ahead with the incorrect order, get nbn
connected, then attempt to remedy the error; or
b) you can withdraw the order and start again.
Withdrawing the order means starting over from the beginning. There are no shortcuts. This can often bring a company close to the disconnection date.
Find out the other six pitfalls by downloading the Guide.
VoicePlus also provides a Managed NBN Migration service. There are two modules:
Managed nbn Transition Service
VoicePlus project manages and implements every aspect of the nbn transition process delivering weekly status updates and driving to a successful completion with minimal input required from the business. We audit the existing infrastructure, collaborate to understand future requirements, supply equipment and manage all the liaison with Telstra and nbn Co. to complete the migration of physical lines and nbn voice and data services. See Scope of Work | Case Studies | Pricing
nbn Order Lodgement Support
VoicePlus will liaise with the business to understand your network - voice and data - requirements. VoicePlus will then create the nbn order, completing all forms and lodging the order with Telstra. VoicePlus will then hand over the order details to the business to manage the implementation. This module is suited to small businesses with simple requirements and the resources to coordinate the nbn Co. and Telstra technicians onsite appointments. Pricing
nbn-Ready Site Network Audit
This is an optional add-on module for sites that require an on-site technician to document their current infrastructure, test that existing equipment is nbn-compatible, resolve any existing issues with lines and connectivity, and prepare a network diagram/plan for the new nbn infrastructure.
---
Related Blogs