Transitioning a business or enterprise to nbn will require significant in-house IT resources, vigilant project management - and lots of time on the phone to nbn Co. and Telstra .

What IT resource will be needed to manage the nbn switch?
Time...migrating takes time. Not for residential consumers, nor for small business, but certainly for most larger business or enterprise customers. Perhaps the more pertinent question is whether the IT team has the desire or bandwidth to project manage the transition to nbn.
The actual amount of IT resource required to transition the business to nbn will vary, dependent upon:
how many sites need to be migrated
what nbn access technology will be utilised at each site
whether an on-premise infrastructure audit is required at each site
if the business has any 'special services' like security alarms, EFTPoS, or lift telephones
whether the business has to purchase and integrate any new nbn-compatible hardware
whether the IT team chooses to project manage the transition itself or outsource to a managed nbn service provider like VoicePlus

Two Critical Success Factors
First point: Timing is crucial Transitioning to the nbn will take your business an absolute minimum of 3 months, and that is if you have a straight-forward installation and do not require any new equipment. That is simply the timeframe for placing an order, having the connectivity equipment installed by both nbn Co. and the service provider, and having the lines connected. Most large businesses should begin the transition process not less than 6 months prior to disconnection date.
Second Point: Process Knowledge For many businesses it will be a difficult and time-consuming process. It will involve detailed planning, vigilant project management - and detailed knowledge of how the migration process works. There are many points where the process can falter:
The nbn database has 12 million addresses with associated services/user details. This database is not perfect. So many addresses are inaccurate or missing off the database that each of the service providers have teams of people to manage this anomaly. Having a business address issue will stop a migration in its tracks.
Each nbn technology requires a different process to be followed by the technicians, with different equipment installed in varying locations – at the premise, at the curb, or at the node. It is crucial to understand the access technology being applied to each location.
Everything has to happen in sequence. nbn Co. has to do their part before the service provider can do their part. Communication between nbn Co. and the service provider(s) has proven unreliable at best. Confirming appointments set by nbn Co. and the service provider is the business' responsibility and will require phone calls to each at regular spacing in the lead-up to the appointment dates.

Unless appointments are confirmed throughout the process it can easily fall over.

The business has to project manage the process. Nothing happens at all if the customer does not initiate it.
What are the main IT responsibilities that will be required?
IT resources will be required in four key areas:
Infrastructure Audit
Project Management
On-Premise Activity
Testing and Reporting
Stage 1: Infrastructure Audit
Obviously moving to nbn means moving from analogue to digital technology. Any existing analogue equipment you have will not compatible with nbn. There is an interim enabling technology that can be used to extend the life of analogue equipment but in most instances there will be a strong business case for upgrading to nbn-compatible hardware.
Some of the existing equipment that a business will need to audit include:
PABX telephone system: Will your current phone system be compatible with nbn technology? If it is more than five years old it is unlikely to be.
Fax machines or fax lines: do you still use a fax line? Will your service over nbn, support the use of fax machines and will your current machine be compatible?
Internet connection: What speed of connection will you need? What bandwidth do you need? How will you avoid downtime during the switch?
Unified Communications e.g. video conferencing: What are your data requirements for these services? Is the equipment compatible?
Wide Area Network/Multiple Sites/VPN: Assess the potential for disruption during the switch. Where a business has separate service providers for voice and internet there will be three parties to manage
...and many more like EFTPoS terminals, fire alarms, security cameras, lift telephones.
VoicePlus' website provides a comprehensive checklist for auditing your infrastructure.

Stage 2: Project Management
Ok you've audited your infrastructure and ensured your equipment is compatible. Now you just need to choose a service provider, a plan, design and submit an order for nbn Co., then manage the migration process.
Managing the transition to nbn is time-consuming and requires pain-staking planning and attention to detail. There are many stages where the process can fall down, and there are a range of activities which must occur sequentially to ensure that there is little to no disruption for the business.
In the eBook "How to successfully manage your business transition to nbn" we outline 7 ways your migration can easily go pear-shaped, starting with the building of the nbn order. For example:
Number 3: An nbn order can not be modified after it has been submitted

A nbn order is not able to be modified. If you discover that you have forgotten to order a fax line (common), or you discover your phone system is not compatible and needs to be upgraded requiring a different setup (also common), or you have replicated your current setup and then discover that you have a number of lines that are not required (very common), you have two choices.

you can go ahead with the incorrect order, get nbn connected, then attempt to remedy the error; or
you can withdraw the order and start again.

Withdrawing the order means starting over from the beginning. There are no shortcuts. This can often bring a company close to the disconnection date.
Stage 3: On-Premise Activity
More than 60% of complaints about nbn centre around the failure of this stage of the process.
There is a sequence to the onsite technical work that must be completed to connect a business to nbn.
The main outcome of nbn Co.'s physical work is to connect the nbn lines and disconnect the old copper lines. The main outcome of the service provider's work is to connect the 'service' on the new nbn lines.
Obviously these appointments need to be coordinated so that nbn Co. do not disconnect the copper lines with the existing service before the service provider connects the new nbn service.
If the work is coordinated the period of disconnection/switch over will result in extremely minimal disruption of a few minutes. If the work is not coordinated and the old copper lines are disconnected before the service provider connects the new service, the disruption can be significant as is hours, days, or weeks.
In most cases the connection of nbn will require two technician appointments to take place - one each from nbn Co. and the service provider. The number of appointments will be dependent on the access technology and any custom work that is required. There could be more than two appointments for FTTN, or only one appointment for FTTB.
Decisions must also be made prior to the appointments about where the nbn connection equipment will be located, and where the service provider's router will be.
A major issue for business is when there is two service providers involved - such as Telstra for voice and TPG for internet.
Typically nbn Co. and Telstra, will not have any knowledge that the internet lines are with a third party internet provider. This is because the internet lines will not show on the Telstra account.
Inevitably what occurs is nbn Co. and Telstra will coordinate their physical onsite work and the copper lines will be disconnected when Telstra enables the new voice nbn service. The business will suddenly discover that it has no internet/data service.
To avoid this occurring, the business needs to submit two separate orders to nbn Co. – one from each of the two service providers.

Stage 4: Testing/Reporting
There is no 'test' to check that everything is working as it should be for the business following the migration process.
The only way that your service provider will know there is an issue, is if you report it. If this occurs, the issue is referred back to nbn Co. for escalation.
If the nbn order has not been marked as 'Completed', the service provider's Faults Department will not accept responsibility.
In most cases, the cause of the fault is usually a physical error and a technician will have to attend onsite. These appointments are escalated within nbn Co. however they take on average 3-7 days to occur.
In the meantime the business will need to use redirections/diversions to another branch or mobile phones. For internet the business will need a mobile broadband connection.
VoicePlus Managed nbn Transition from $695 per site
VoicePlus has managed the transition of more than 2000 business sites to the NBN already. We have developed a specialist team to manage migrations.
With this service, VoicePlus will project manage and implement every aspect of the NBN transition process delivering weekly status updates and driving to a successful completion with minimal input required from the business. We audit the existing infrastructure, collaborate to understand future requirements, supply equipment and manage all the liaison with Telstra and NBN Co. to complete the migration of physical lines and NBN voice and data services. Case Studies | Scope of Work | Pricing
VoicePlus also offers an nbn Order Lodgement service from $300 per site, and a Infrastructure Audit service from $400 per site.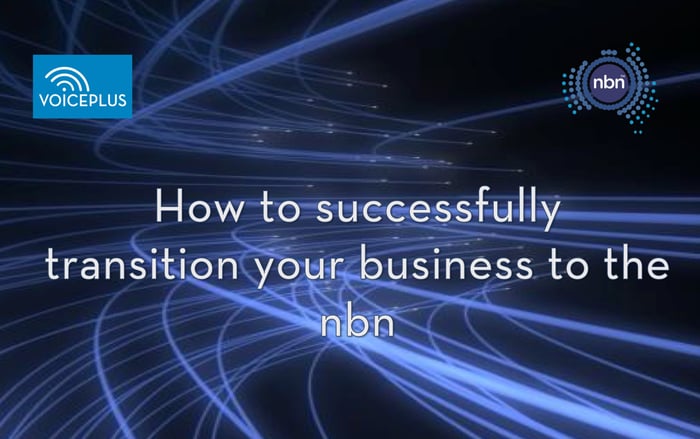 ---
Related Blogs