Samsung has stolen the mantle of most innovative smartphone manufacturer with the launch of its first 5G-enabled folding smartphone - the Galaxy Fold - but can we afford it, and will it fit in our pocket?

After months of hype from the Samsung hierarchy, the Galaxy Fold was unveiled at the Samsung Unpacked event in San Francisco on 19 February.
Samsung positioned the Fold as a game-changer and hit back at naysayers who said smartphone innovation had hit a wall. DJ Koh, President and CEO of IT & Mobile Communications Division, said:
"Today, Samsung is writing the next chapter in mobile innovation history by changing what's possible in a smartphone.

"Galaxy Fold introduces a completely new category that unlocks new capabilities never seen before.

"The device answers sceptics who said that everything that could be done has been done. We are here to prove them wrong."
Available in Australia mid-2019, at around AU$2,750
The device will be available in the US market from April 26, starting at US$1,980, with a free pair of Samsung's new wireless earphones - the Galaxy Buds.
The European launch date is set to follow on May 3, however an Australian launch date is not officially available. Pundits predict this will be mid-2019.
Australian pricing also remains unconfirmed, however, when aligned to the American pricing, the Galaxy Fold would retail from AU$2,750.
This would put the Galaxy Fold at $1,000 more expensive than the priciest iPhone, and more in line with laptop pricing. It remains to be seen whether the new features will coax that sort of money out of Australian consumers.
The Galaxy Fold will be available in four colours: Cosmic Black, Space Silver, Martian Green and Astro Blue. The spine can also be customised to any of the colour.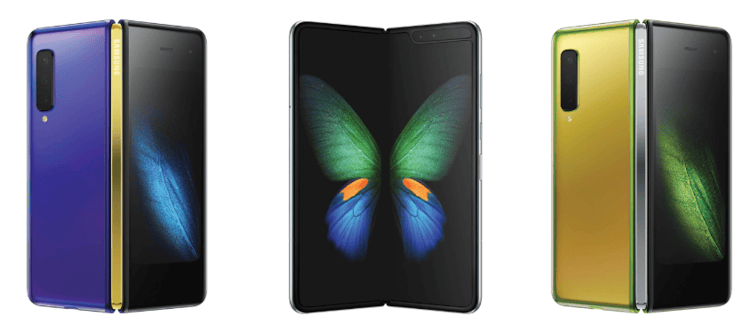 Phone doubles as tablet
The highlight of the new device is obviously the size of the opened out screen combined with the continuity of viewing from one screen to the other.
In terms of size, the screen opens out from 11.6 cm (4.6inches) when folded, to 18.5cm (7.3inches). Samsung's senior vice-president for mobile, Justin Denison, was at pains to point out this is not a bending screen, but a genuine folded screen.
"The internal screen does not merely bend. It folds. Folding is a more intuitive motion, and a more difficult innovation to deliver. Samsung invented a new polymer layer and created a display around 50 percent thinner than the typical smartphone display."
The most impressive innovation is the seamless app continuity between the two screens. A user can look at an app - say Google Maps or Facebook - and on opening the device the same image will be magnified instantaneously on the larger screen. The open device can also run three apps side-by-side simultaneously. An interlocking geared hinge system is hidden from view in the spine.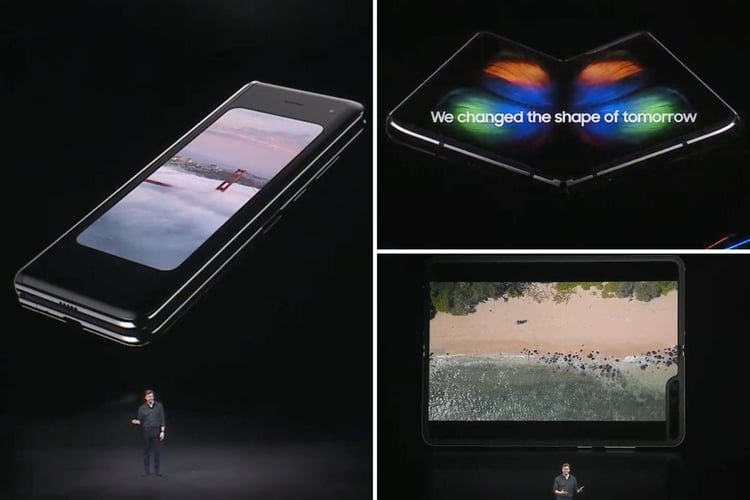 Big question mark over thickness?
However the big unanswered question is, how thick is the folded Fold? Media representatives onsite at the Unpacked event were very surprised not to be given a device to handle post the announcement. This was despite a market launch date only a couple of months away. In fact, an actual physical device was not even on display to the gathering.
Speculation that Samsung wanted to divert focus from the thickness of the folded device, intensified when a spokesman refused to divulge the dimensions saying they had "not been made public".
Without confirmation, media has reported expectations that unfolded the device will be .69cm thick, and 1.7cm thick when folded. This would seem to be a fair assumption taking into account Samsung's assertion it has been able to make the screen thinner. This would also compare favourably to the new Galaxy S10 which is 7.8mm thick.
However, whether that thickness will sit well with consumers is yet to be tested.
The Galaxy Fold announcement at Samsung Unpacked (6mins)
Attribution: Tech Insider
©VoicePlus 2019. All rights reserved.