Samsung has given us a 'sneak peak' at its 5G City, as the Korean tech giant announces it wants 20 percent of the global 5G network equipment market by 2020.
Samsung targets Huawei's dominance
Youngky Kim, president of Samsung's Network Business, has announced the Korean tech giant will aim to secure a 20 percent share of the global network equipment market by 2020.
This is an ambitious target given Samsung currently has just 3 percent of the market.
Samsung clearly aims to steal market share from Huawei. Kim laboured the point that Samsung provided the safest platform security service.
His comments reflect on the current security issues raised in the US and Australia over whether to use Chinese vendor Huawei's equipment for a 5G network.
Huawei controls 28 percent of the global network equipment market, followed by Ericsson's 27 percent and Nokia's 23 percent, according to IHS Markit. ZTE is in fourth place with 13 percent, while Samsung is fifth with 3 percent.
Samsung showcases equipment through 5G City unveiling
Simultaneous to its equipment targeting announcement, Samsung has unveiled its 5G City in action through a corporate video (above).
5G City' is located within 'Digital City' of Samsung Electronics in Suwon, Korea, and is made up of three parts: the '5G Stadium', the '5G Connectivity Node' and the '5G Kiosk'.
Samsung describes the three key features below:
The 5G Stadium
The 5G Stadium features a massive MIMO (multiple input multiple output), a key 5G evolution technology. It allows crowds of people to watch high-definition streaming videos seamlessly. It is applicable for crowded venues like sports centres, concert halls, conference areas and more, says Samsung.
The 5G Connectivity Node
The 5G Connectivity Node is one of the focal aspects of 5G technology in the smart city. CCTV cameras, digital signage, and all sorts of sensors are connected through 5G and other technologies such as Wi-Fi, Bluetooth and Zigbee. This enlarged network capacity connects more sensors and enables more accurate and intelligent ways to monitor traffic, measure temperature and stream diverse content.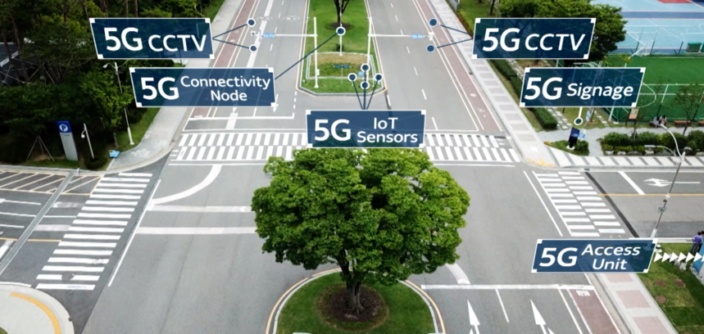 Eight high-definition CCTV cameras and the video analysis software of a security company detect the driving speeds of cars and pedestrians jaywalking. This information can then be shared across the 5G network, so that the central control tower can access the information simply through a tablet device to overview the control status from outside. When artificial intelligence (AI) technologies are added to the city in the near future, smarter and safer city control services can be implemented.
The 5G Kiosk
High-speed download becomes a breeze with the 5G Kiosk, the hot spot of the 5G era that allows for super high-speed download. When a 5G test bus drives into this area, download speeds reach 1~3Gbps, and a 500MB file can be downloaded within five to six seconds. With the most optimal technology and equipment of the 5G era, the 5G Kiosk zone will be able to provide new services such as high-definition video, map download and large software updates for autonomous vehicles.