Samsung has confirmed it will unveil the world's first foldable smartphone at its annual Developer Conference in November. The tech giant will also showcase a 10th Galaxy S device and a 5G-compatible handset.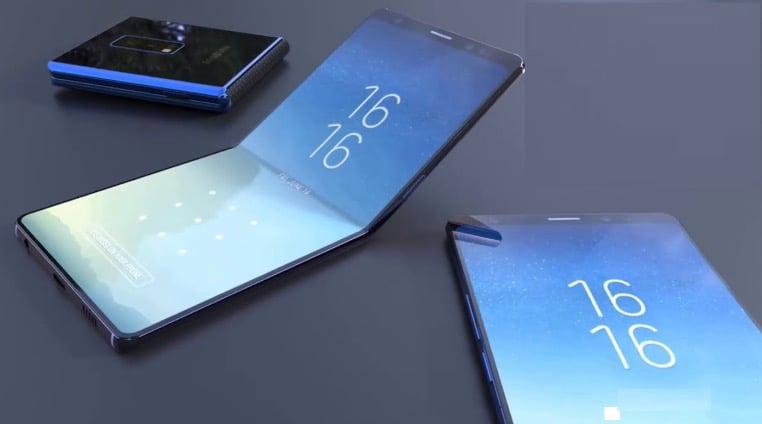 Samsung boss confirms foldable phone coming this year
After declining smartphone sales in the first half of 2018, the Korean technology giant will look to steal the innovation high ground and reinvigorate the marketplace.
In an interview with Channel NewsAsia on Monday (24 September), Samsung's president and CEO of IT and Mobile, Mr Koh Dong Jing, said the foldable phone will be "ready soon." The company later confirmed the device would be first viewed at the annual Samsung Developer Conference in San Francisco, 7-8 November.
What kind of foldable can we expect ?
Samsung has two patents on foldable phones - one for a device that folds in the middle and the second that unfolds to become a mini tablet. It seems that the second design is more likely to become the reality, as Koh has hinted.
"You can use the smartphone without unfolding it but when you unfold it to see something, it becomes like a tablet. But if they unfold it and it's the same as today's tablet, I don't believe that customers will love it."
Koh also said he hopes the foldable phone will become "a fashionable item. When they have it, I want to make them proud of it."
Tenth Galaxy S will have "meaningful innovation"
The tenth device in Samsung's flagship 'S' range will be released in 2019, ten years after Samsung's first Galaxy phone, the i7500, which was the company's entry into the Android smartphone market.
Koh again stressed Samsung's commitment to innovation as he announced the Galaxy S10 will have "significant" design changes that are "meaningful" innovation, instead of "gimmicky features."
"Samsung has always emphasised relentless innovation but that should be meaningful to our end-consumers. The focus of the S10 is the same - to make customers happy - but it's the tenth anniversary, so how can we make it more meaningful or what would be more historical. When customers hold the S10, I'll like to hear comments like 'Wow, this is the 10-year anniversary product of Samsung."
New 5G device will be expensive in initial roll-out phase
Koh confirmed there are plans to roll out a 5G-compatible device by next March or April, though the launch is likely to be limited to specific markets like the US and South Korea where 5G networks are already gearing up for the next generation wireless services.
Koh said the device will not be part of the Galaxy series, and
the price of the first 5G phone will be higher in the initial roll-out because the components "need more time" before they can be ready for mass production.