The NSW Business Chamber has called for a nbn Service Guarantee as a survey of members shows an average loss of $9,000 per site due to delays, disruption and new equipment required during migration.

nbn is costing business large and small
In a survey of its members, the NSW Business Chamber has found the migration process is expensive and disruptive, while the outcome has left 68% either dissatisfied or very dissatisfied.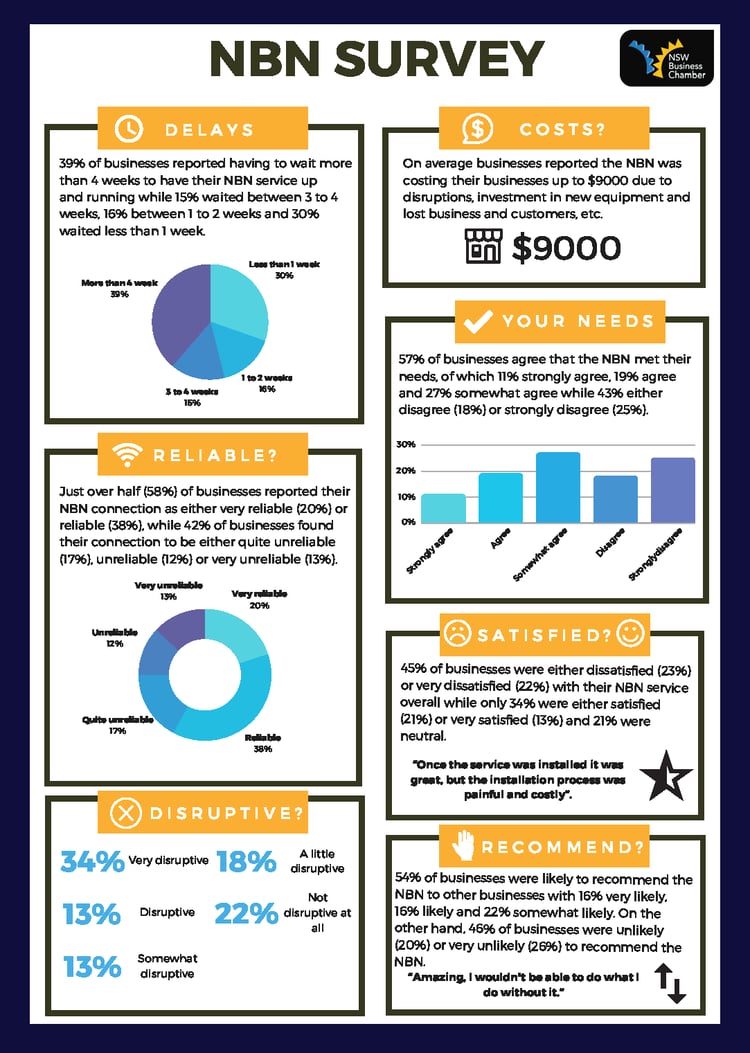 NSW Business Chamber calls for Service Guarantee
The NSW Business Chamber has called on the ACCC to introduce a nbn Service Guarantee.
Stephen Cartwright, Chief Executive Officer of NSW Business Chamber, said:
'"We heard from too many businesses who were unable to trade or process transactions because of serious failures with broadband services, particularly those in our regions.

'"Something needs to be done urgently to put the onus back on the parties supplying broadband services to assume responsibility and deliver what they promise.

"That's why we're calling for the introduction of a National Broadband Service Guarantee, to reduce frustration and confusion faced by consumers in resolving faults and failures, in a submission to the ACCC's Inquiry into nbn wholesale service standards."

Moving to nbn is a time-consuming process
Time...migrating takes time. Maybe not for residential consumers or some very small businesses, but certainly for most business or enterprise customers.
There is a lot to do...
ensuring your existing telephony equipment is nbn-compatible
working out what your future ICT requirements will be
choosing a service provider and plan
arranging appointments with NBN Co. and Telstra
deciding where your equipment will be located
managing the cut-over
....it goes on...and on.
This Best Practice Guide outlines all the knowledge and insights needed to deliver a successful migration to NBN, and how to avoid costly delays and unnecessary equipment upgrades.
VoicePlus has transitioned over 2000 sites to NBN
VoicePlus has managed the transition of more than two thousand sites to the nbn already. We have developed a specialist team to manage migrations. Consider outsourcing this task if your internal IT team already has its hands full and lacks the time or resources for the project.
VoicePlus Technical Account Manager, Asif Mahmud, explains:
"We have several large enterprise customers who have begun the process of transitioning their sites all across Australia to the NBN.

"The key to a successful migration is careful planning and project management. It is crucial to be on top of the details of each site migration, especially the coordination of onsite technicians from both NBN Co. and Telstra.

"In many cases, the transition will cause telecommunications to be disrupted for a very short time. However, if the onsite visits of the two technicians have not been coordinated, or if equipment is not compatible, a site could lose communications for several days. If a site has been disconnected, it will be months before new lines can be connected.

"VoicePlus coordinates with the business, with NBN Co. and with Telstra, to ensure a smooth transition without disruption.

What's involved in a Managed NBN Transition ?
You must take the initiative in organising your move to the NBN. It does not just happen.
VoicePlus offers two professional service modules for transitioning to the NBN, as well as an add-on Site Network Audit service module.
Managed NBN Transition Service
VoicePlus project manages and implements every aspect of the nbn transition process delivering weekly status updates and driving to a successful completion with minimal input required from the business. We audit the existing infrastructure, collaborate to understand future requirements, supply equipment and manage all the liaison with Telstra and nbn Co. to complete the migration of physical lines and nbn voice and data services. See Scope of Work | Case Studies | Pricing
NBN Order Lodgement Support
VoicePlus will liaise with the business to understand your network - voice and data - requirements. VoicePlus will then create the nbn order, completing all forms and lodging the order with Telstra. VoicePlus will then hand over the order details to the business to manage the implementation. This module is suited to small businesses with simple requirements and the resources to coordinate the nbn Co. and Telstra technicians onsite appointments. Pricing
NBN-Ready Site Network Audit
This is an optional add-on module for sites that require an on-site technician to document their current infrastructure, test that existing equipment is NBN-compatible, resolve any existing issues with lines and connectivity, and prepare a network diagram/plan for the new NBN infrastructure.
---
Related Blogs