The NBN is rolling out across the major city CBDs and hundreds of businesses are now receiving disconnection notices. How should you respond?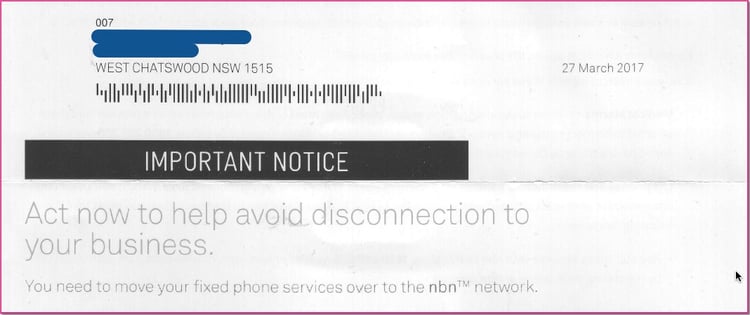 Time to act
You've had 18 months' notice that you will need to switch to the NBN so it shouldn't be an enormous surprise. And yet it seems it is for some of us.
The 18-month NBN cut-off is reaching over 350,000 premises in 2017, and 100,000 in January 2018.. It affects 348,627 homes and businesses across every state and territory but mostly in New South Wales.

How does a business get NBN ready?
For residential addresses you don't really need to prepare for the NBN. When it becomes available you will simply choose a service provider and plan. Ring up, sign up, pay your monthly fee and its done!
But for businesses it makes sense to plan ahead to ensure you have time to choose the most cost effective solution and to protect your business from any disruption or downtime during the changeover period.
Step 1: Audit your existing network and equipment
Many businesses will find it is a simple matter to switich to the NBN, but many more may be surprised to learn their current telephone system or network equipment is not NBN compatible.
Things to check include
PABX telephone systems: will the equipment be compatible with nbn technology?
Fax machines or fax lines: will your phone service over nbn support the use of fax machines and will your current equipment be compatible?
Internet connection: what speed do you need? how to keep it working during the switch
Wide Area network, multiple site e.g. VPN: check equipment compatibility and potential for disruption during switch.
Unified Communications e.g. video conferencing: what are your data requirements for these services? Is the equipment compatible?
IP telephony e.g. VOIP:

what are your data requirements for these services? Is the equipment compatible? How can you reduce disruption during the changeover period?

Cloud services and applications: what are your data requirements for these services? How can you reduce disruption during the changeover period?

Monitored security alarms or cameras: will your alarms/cameras still work when connected to the NBN

and, if necessary, what alternative solutions are available?

ATM on site: check with the bank or provider of your ATM to find out if it will be compatible with the NBN
EFTPoS Terminals:

check with the bank or provider of your ATM to find out if it will be compatible with the NBN

Fire alarms: if you have a monitored fire alarm in your building, you will need to register it with the nbn and also check with the provider whether the equipment is compatible with NBN
Lift emergency phones:
Medical alarms:

It's essential to

register your professionally monitored medical alarm / autodialler or emergency call button

with nbn and call your medical alarm provider to find out if your device is compatible. I

t's important to

register your medical alarm

with

NBN

as this will help

NBN

to liaise with your alarm provider to help minimise a break in service when the existing network is switched off.
VoicePlus will complete this checklist for your business and advise if any upgrades to equipment or network are required.
Step 2: Consider Other Requirements you may have
Choose a location for your equipment
Depending on the NBN network technology that will connect your business, you may need to select the specific location for nbn equipment to be installed at your premises. The best place is close to a power point, in a cool, dry, well ventilated area, close to your existing modem/router and easy to access.
Consider if you will need additional wiring
If you want to use existing phone wall sockets, you may need wiring changes to reconnect them to their new phone service over the NBN network.
Step 3: Choose a NBN Business Service Provider
Ok you've checked all your equipment is compatible; and figured out where everything will go. Now you just need to choose a service provider.
Phone and internet service providers offer various bundles and plans over the nbn network that are based on your speed, phone and data requirements.
Many providers market "business" plans. These differ from residential plans in that business plans do not impose "shaping" when a business exceeds its allowance. In residential plans "shaping" slows your connection until the end of the billing cycle and payment has been received.
Business plans should also provide a Business Support hotline so you will not have to queue with residential customers should a problem arise.
What speed do you need?

Australia's new broadband network comes with a choice of speeds - 25Mbps, 50Mbps, 100Mbps.
As a wholesaler, NBN Co. offers these speeds to the phone and internet service providers that you deal with on a regular basis.
Your experience, including the speeds actually achieved over the nbn network, is determined by the service provider, the plan you choose, and the technology over which the service is delivered to your premises, as well as your equipment quality and software. nbn wholesale speed tiers available to your internet service provider vary depending on the access technology in your area.
This means choosing the right speed and plan through your service provider is vital if you want to transform your online experience.
Most businesses will require a speed of at least 25Mbps, however this may need to increase with multiple users and devices as well as sharing large files or sharing internet connection with Telephony Services.

How much data will you use?


The amount of data you need depends on what you use the internet for, and how many people use your service. Every time you watch something on Netflix or YouTube, you're downloading data from the internet to your device. The same goes if you're posting an image to Facebook or saving a file to the cloud, you're uploading data.

The way your broadband plan is set up can also have an effect on your usage. Some retail plans will include set limits on how much data you can upload and download, and some will offer unlimited uploads and downloads.

The key here is understanding your data needs. If you're running a business and you need to send files via email regularly, it's important to have a good upload speed. If you're constantly streaming High Definition (HD) video content it pays to have a good data and speed package.
Why choose Telstra?
There are over 130 NBN service providers listed on the official NBN website. Several of these are household names but most are not.
For business - small, medium or enterprise - VoicePlus recommends Telstra so that you can take advantage of the largest broadband network available, along with years' of fixed line experience, and dedicated business support.
There is also the option to default to Telstra's cellular network should your NBN connection fail, if for instance there is a power outage.
---
Related Blogs