Android 9 Pie's use of artificial intelligence to customise the UI just might get Android users excited enough to update their OS.

Android users slow to update
Android users are notorious for not updating their operating system. Even as Android 9.0 launched last week, only 27.3 percent of active Australian Android users had updated to Oreo 8 or 8.1, according to Statcounter. A worrying14.5 percent were still using Lollipop 5.1 and KitKat 4.4 versions.
Yet, in this respect, Australian users are well ahead of the global trend with only 12.1 percent of all active Android users moved to Oreo, according to the Android Developer Dashboard. Globally 7.0 Nougat is the most active android OS with 30.8 percent of all active android users.

Adaptive is the buzz word
So why will Android users consider updating to 9 Pie? There are two main themes to the new OS - artificial intelligence and digital wellbeing. It's 'adaptive everything' when you check out the
Android 9 website
.
Android 9 harnesses the power of artificial intelligence to give you more from your phone. Now it's smarter, faster and adapts as you use it.
Adaptive Battery: Adaptive Battery learns how you like to use your phone, so the apps and services you don't use as much aren't a battery drain.
Adaptive Brightness: The screen automatically adjusts to the environment and activities. It also learns how you like to set the screen brightness and automatically adjusts to match your preferences.
Adaptive App Actions: App Actions predicts what you're about to do, so you get to your next task more quickly. The device adjusts for the morning commute, at work, wearing headphones.
Goodbye annoying App Notifications: When Android 9.0 notices that you routinely swipe away an app's notifications without ever tapping into them, the system will show a prompt asking if you'd prefer to just shut off notifications for that particular app instead of swiping over and over again.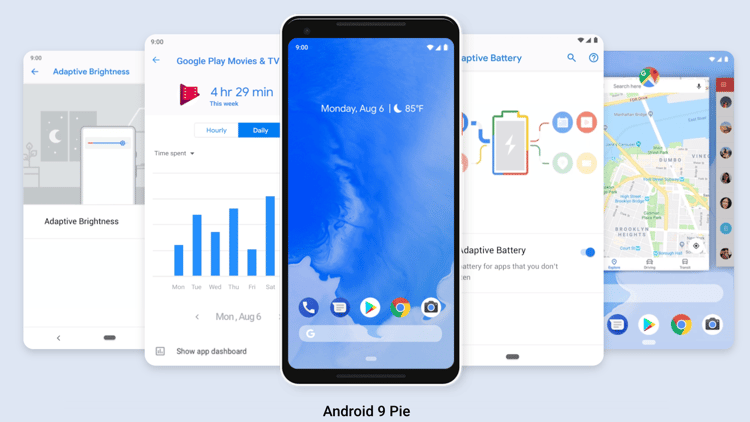 Who ate all the pies?
Alongside the AI innovations, Google has also introduced an entire Digital Wellbeing set of tools. A wellbeing dashboard gives a clearer picture of how often you use your phone. You can see how many notifications you get, plus how much time you spend in apps and how often you check your phone.
You can set App Time Limits and and App Timers let you know when you have reached your limit. You can also set a daily schedule to tell your phone to get ready for bed. The screen fades to grayscale and Do Not Disturb turns off notifications.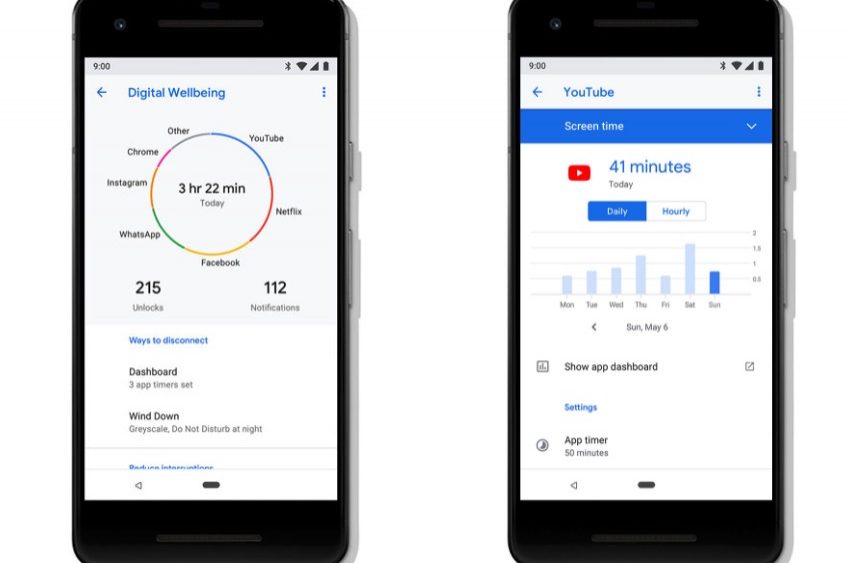 When will Android 9 be available for your device?
Android "Pie" (codenamed Android P during development) is the ninth major update and the 16th version of the Android operating system.
Android "P" was officially released on August 6, 2018 as "Android 9 Pie" and is currently available on the Google Pixel devices and the Essential Phone.
The timeframe for rollout to other devices is currently vague. Google has indicated that manufacturers who were involved with their beta trials - that's Sony, Xiaomi, HMD Global, Oppo, Vivo, OnePlus and Essential - would receive it by "this fall" which means the Australian spring...which is soon?!
Google suggests everyone will have access "by the end of the year". Samsung has not commented on when Pie will be rolled out to its flagship Samsung S9 and Note9. Samsung is still deploying the previous version, Oreo, onto existing mid and low-end models "until March 2019."
---
Related Blogs