While all eyes were on the launch of the Galaxy S8 at the Samsung Unpacked event, Samsung also unpacked an innovative smartphone dock called DeX which could become the hub of your mobile office.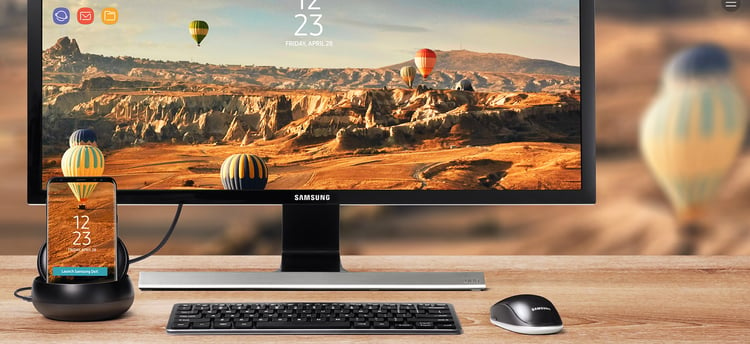 How many of us cart our laptops home-work-home each day; or on business trips; or from office to office? Could the new Samsung DeX lighten our load?
What is DeX?
The De stands for desktop; and the X for experience.

The DeX is Samsung's Desktop Experience accessory for the new Samsung Galaxy S8 and S8+.

The Samsung DeX will be available in Australia for $199 from April 28.

Could DeX be your mobile office?

The short answer is yes it could be ...but that comes with a few caveats.

This is how DeX works.
Plug your Galaxy S8/S8+ into a DeX dock which also supports a monitor, keyboard and mouse, for a desktop experience powered by your phone.
Sooo...you will need a monitor, keyboard and mouse - as well as your DeX dock.
Now this could work fine if you know that where you are going will have a monitor, keyboard, mouse.
And by monitor this could include a televison screen if you are in a hotel room.
Of course if you have a home or remote office set up with a monitor and wireless keyboard and mouse, you only have to carry your phone with you.

Why DeX should work where previous hybrids haven't?
DeX is not the first attempt by smartphone manufacturers to turn their devices into a laptop alternative.
Both HP and Motorola have tried before and failed to catch on, mostly because the phones weren't powerful enough and their was limited app support.
Samsung have overcome both of these barriers. The Samsung S8 is a powerful device - powerful enough to run a range of virtual desktop apps that Samsung has lined up for users.
And that's the second barrier overcome. Samsung launch the DeX with apps from Citrix, VMWare and Amazon Web Services, so you can virtualise a Windows machine and run any x86 native apps that your organisation supports.
The Android versions of Adobe's PhotoShop, Acrobat and Lightroom apps, as well as Microsoft Word, Excel and Powerpoint have been redesigned to suit the keyboard and mouse-driven desktop environment when using DeX.
Big advantage in Security stakes
As well as having enough grunt and all the apps we want to use, the DeX has another big advantage - security.
Smartphones are considered very secure, as they're both encrypted and biometrically locked, so the DeX gives you the option of packing all your sensitive data on a phone, using it as a desktop PC, then putting the entire thing in your pocket when you leave.

Desktop and Phone in one
The DeX Station also supports the Galaxy S8's basic mobile functions. Notifications will pop up in the lower right corner of your screen, and you can make or receive calls using the speakerphone while still docked.
For private calls, you can undock the phone and continue your conversation while the S8 switches back to mobile mode in the background.
Watch [Hands On] with Samsung DeX from the Samsung Newsroom
---
Related Blogs