New smartphone launches are so ...yawn.
In 2019 the
flagship smartphone events have made one thing crystal clear - he who owns the ecosystem will rule.

Smartphone innovation has slowed to a crawl
Every device is high-end. Every device is fast. Every device has a great screen and a fantastic camera.
Ten years after the launch of the first smartphone, there is killer hardware from multiple manufacturers. Oppo, Huawei, Samsung, Apple, Xiaomi, LG, Google - are all producing outstanding devices.
True smartphone innovation has slowed to an imperceptible crawl. (Let's put to one side the supposed innovation of the not so foldable Samsung Fold!)
Once eagerly anticipated keynotes events are barely holding onto their audiences. Instead of focusing on insane new features, keynotes explain how you can add your face to an animated emoji, or enhance your photos after the fact, or open the device with your face, eye or thumb. All are entertainment, minor distractions, or other software-based add-ons. Maybe some of them will matter, but the majority won't.
Little interest in upgrading as smartphone sales slump
It's little wonder that consumers are holding onto their devices longer. Meanwhile smartphone manufacturers are struggling to justify the yearly upgrades they've spent nearly a decade normalising.
Gartner analyst Brian Blau, says consumers are seeing no compelling reason to upgrade.
"Are smartphones across the board valuable longer to people? The answer is definitely yes. Are the devices sufficient to take care of people's needs today? Pretty much."
Ryan Reith, a vice president at IDC agrees:
"One major driver of the change in our behavior is that phones now mostly look alike. Consumers say, I will buy when I see something new or hear something I need."
Users in five European countries tracked by Kantar Worldpanel - France, Germany, Great Britain, Italy and Spain — are keeping their phones longer.
From 2016 to 2018, the life cycle of a smartphone was extended by nearly three months, from 23.4 to 26.2. Users in Great Britain logged the longest average of 27.7 months in 2018.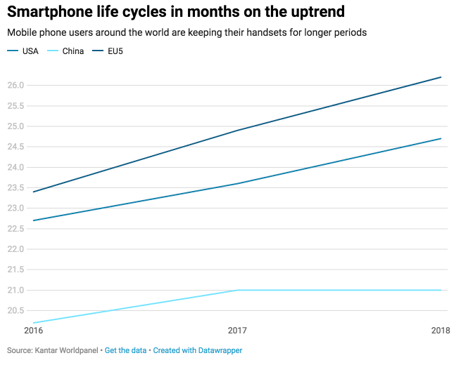 Upgrade temptation to the fore
2018 was the year of new form factors, giant screens, colour options, and quirky ways to stretch the display from notches to infinity screens.
So far in 2019 there has been the celebrity-studded Apple launch of Apple TV+, the Apple credit card and Apple Arcade - not a smartphone in sight. Meanwhile Samsung unfolded the gimmicky Samsung Fold which has yet to be released after review devices failed the first 24 hours of folding and unfolding; and the 5G version of the Galaxy S10 which is also yet to appear as we wait for a 5G network to arrive.
All blatant upgrade temptations for people still holding onto their old phones, but not an innovative smartphone breakout feature in sight.
What we're seeing now is simply an ecosystem battle
Without innovation to differentiate devices, what's for the manufacturers to focus on. Obviously ... accessories, software, and the ecosystems surrounding our phones.
For your Apple iPhone, you'd better get the AirPods, sync with your Apple Watch, download the Apple Music app and wait for the launch of Apple TV+ or the Apple card.
The Samsung smartphone range is complimented by the Samsung Gear VR or Fast Charge Wireless Charging Convertible Stand?
Smartphone manufacturers seem to have decided that locking users into the eco-system is key to repeat sales. That, and smartphone prices have been creeping up as manufacturers replace lost sales revenue with a higher per unit profit margin.
[Note: It will be interesting to see how Huawei copes with the withdrawal of the Android OS by Google].