Reducing the Cost of Mobile Services
Every dollar counts when doing business. But, for some reason, many companies continue to lose thousands of dollars on mobile services and devices each year. This guide will provide you with some simple and smart choices that can easily help turn this around.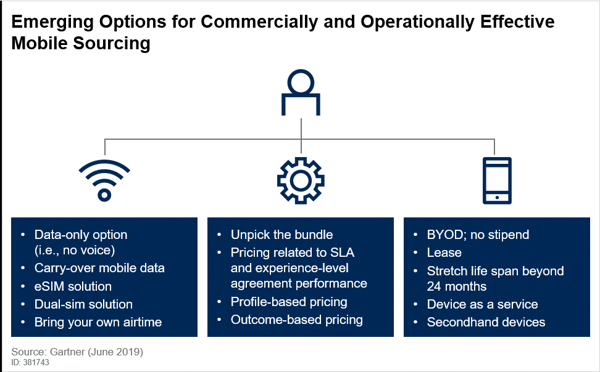 Keeping airtime costs down.
Businesses now spend just as much on mobile airtime as they do on fixed voice and data services combined. And when you consider that most devices now cost three-quarters of the price of a laptop, the figures very quickly add up. So, it only makes sense that there should be a lot more due diligence when it comes to making mobile service decisions.
Airtime may have once been our most important mobile commodity, but as the world around us evolves, so does our reliance on it. The abundance of WiFi networks and network-based communication apps has seen our need for significant airtime start to fall. And that's where you can make some serious savings.
Use data to its full potential.
Most mobile plans now come with unlimited calls, but is this something you need or just something you're used to? The use of apps such as WhatsApp and Teams allows for voice and video calls using only data, so why pay for calls when you don't need them?
Roll your data over.
For a long time now, consumers and not businesses have been offered to rollover any unused data from their monthly allowance. But, times are finally changing, and you can now negotiate this into business contracts. This could see a significant cut in unnecessary costs, as data over-usage fees are often at 3X to 10X standard charges.
Bring your own airtime.
Similar to bring-your-own-device, savings can be made by asking employees to use their existing mobile plans. Most will have unlimited calls and texts, so it will be adequate for basic business needs. This may raise some eyebrows, but they are some conversations worth having.
Lean of the WiFi boom.
This tactic relies heavily on WiFi and may not be feasible to all businesses due to location etc. However, if a plan can be stripped back to be reliant on WiFi and with a small allocation of data as a backup, the airtime costs for many users can be heavily reduced.
Make their data count.
By enforcing data usage policies on business mobile plans, usage can be dramatically cut down. Providers such as Wandera and Asavie allow you to set and restrict access to data-hungry websites and content, or even stop any usage that is non-business related.
The benefits of dual-sims.
In the event of international travel, the utilisation of dual-sims will put an end to the high costs of roaming charges and support a flat rate system. Plus, a localised number can be a benefit for cultural reasons and provide a better-localised service for the end-user.
Utilise embedded subscriber identity modules.
More commonly known as eSIM, users don't need a physical SIM card in the phone to access a network. Newer iPhone models have both a Nano sim and an eSIM and allow users to have access to their own plan and data when using a corporate phone. This can reduce data usage and saves the hassle of physically swapping SIM cards.
The benefits of managed mobility services (MMS).
As the mobile landscape continues to shift and the technology it comes with becomes ever more complicated, outsourcing the management of your mobile services is probably starting to seem like a good idea. And with a Gartner survey showing an average total cost of ownership reduction of 12% with MMS, it probably sounds even better.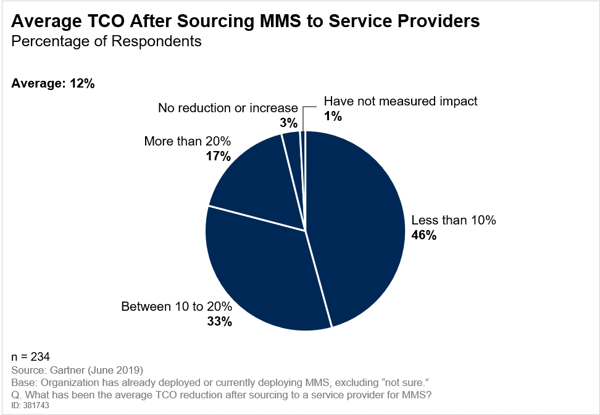 Don't get locked into the wrong MMS deal.
Look for an MMS deal that doesn't tie your hands by only giving you access to one provider for all the services you will need. By keeping your options open, you can implement your own strategies such as a telecom expense solution (TEM), and self-manage device recycling and disposal by combining mobile waste with existing contracts for e-waste - both of which could see a significant increase in savings.
Not all users are the same.
By creating a range of employee profiles that determine the level of service needed, an MMS deal's pricing model can drastically change. For example, VIP users and sales staff need flagship devices and services, while office-based users with regular access to landlines and desktop computers don't. By tailoring the solutions required for each profile, overall costs can be better managed.
Only pay for the level of service you receive.
As competition in the MMS world increases, so does the level of service you should expect. By negotiating to pay a reduced fixed cost upfront and a 'bonus' based on your provider's ability to meet SLA targets, you ensure you get what you're paying for.
Outcome-based pricing.
When engaging an MMS vendor, you should have a clear understanding of the outcomes you want to achieve via their services. With the right negotiations, you can arrange to pay as per the performance of their services in helping you achieve these goals. By utilising KPIs based on targets such as the number of quotes from an app, taking an order/registering a mobile sale, or health/safety-orientated aspects relating to law enforcement or ambulatory services, you should be able to achieve both time and financial savings.
Cut the cost of your devices.
The prices of flagship devices continue to soar and don't look like stopping any time soon, and neither does their desirability. So while mid-range options are becoming more readily available, the need to rein in spending on devices has never been more critical. Procurement procedures need to be overhauled, as the traditional methods of outright purchase, instalment plans and airtime contracts no longer need to be the only way.
Pay as you go devices.
If you're looking to cut the upfront costs for your mobile devices and services, device as a service (DaaS) can be a perfect option. For an ongoing monthly fee, most vendors will provide a device and allow you to incorporate certain levels of management services such as break/fix, airtime, and even support like help desk and sanitation and disposal.
Keep your devices longer.
Modern high-end mobile devices are so powerful that they should be lasting a lot longer than they currently are. The average life span of a corporate phone is just 24 months, while a corporate PC is now four years. By purchasing devices outright or at the end of a contract, you can extend their life well beyond current standards, with Gartner estimating an increased life span of 33% being readily achievable.
Use employee devices.
Everyone has a mobile device, so to save money, you can incorporate policy that no new hires be issued a corporate phone. Instead, they would use their own device for business and personal purposes. Through the use of UEM, you can resolve any security and privacy issues. And if necessary, eSIM solutions can also be incorporated to ensure employees don't feel it as a negative on their compensation package.
New isn't always best.
Second-hand devices can cost as much as 50% less than their new counterparts. And with the average device setting you back $650 for each user, the value quickly adds up. While the life span of devices may only be expected to be 24 months, properly refurbished devices should last much longer. While some users may not like the idea of second hand, well-maintained devices will be hard to distinguish from new.
---
Related Blogs