Efficiency - convenience - getting things done faster.
Ultimately the Number 1 reason that we adopt technology - at home or at work - is that it gives us the gift of time.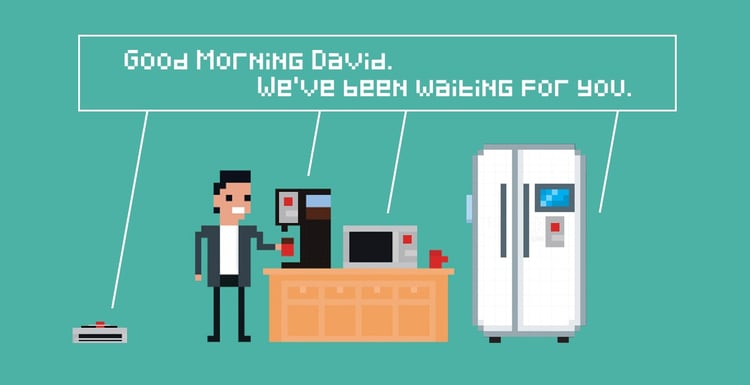 Internet banking saves us a trip to the bank.
Online shopping saves us trekking around the mall checking out everything on offer only to discover our final choice is not available in our size, but is available at the branch across town.
Smart home appliances have our coffee brewing, lights and heating switched on and off, and record our favourite programs.
Social media is so fast. Chat to all your friends at once without leaving the room.
It goes on...at home, at leisure, at work...if it saves us time, we embrace new technology.
Millenials lead the charge
According to research by GlobalData, a UK-based research company:
65% of millennials agree that they rely heavily on time-saving technologies, which is 16 percentage points higher than the over-55 age group.
When Salesforce asked millenials what makes them feel "distinctive," 24% of those born between 1981 and 2005 - say it's their use of technology.
Technology has become nearly a physical appendage for many of us. Given the choice of keeping their sense of smell or their laptop or smartphone, nearly half of people in the survey aged 23 – 30 chose the phone, says Saleforce.
Demanding technology that allows self-reliance
The younger Y Generation, now aged 18 to 35 years, is also intensely self-reliant.
As far back as 2015, English software company Aspect reported that nearly three out of four millennials prefer to solve their customer service issues on their own.
30% of millenials said they "would rather clean a toilet than speak to a customer service representive"

69% reported feeling good about themselves and the company they're doing business with when they "resolve a problem without talking to customer service"
Leading busier, demanding lifestyles
GlobalData says younger generations have busier and more complex lifestyles and therefore value the timesaving benefits of technology more than older generations.
Matthew Perry, consumer analyst, GlobalData, claims,
"The convenience and efficacy of technologies like smart homes appeal more to millennials, given that younger consumers lead busier, more demanding lifestyles, and yearn for effective and efficient products that are seamlessly integrated with the smart technologies they use day in, day out.

"Producers should look to target the millennials driving this trend to mitigate the risk of failure for digitised concepts and tap into this age group's growing desire for smart-tech solutions that offer time-saving benefits and ensure efficacy."
---
Related Blogs