VoicePlus, a medium-sized Sydney-based ICT business, out-performed global giants IBM, Microsoft, Lenovo and Canon to take out the award for Supplier of the Year for Information Technology & Telecommunications.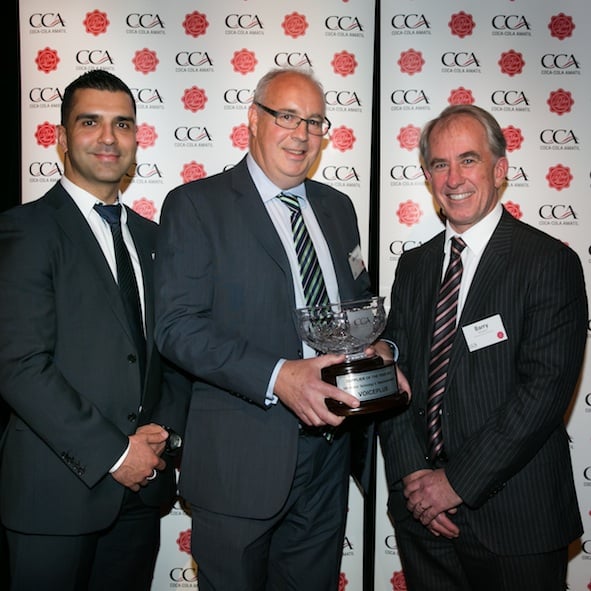 From left: Ali Basharyar and Michael Giffney of VoicePlus receive the CCA Supplier of the Year trophy from CCA Chief Financial Officer, Barry Simpson.
The award was announced at the Coca-Cola Amatil annual Supplier of the Year Awards function held at Centennial Hall, Sydney on Thursday 11 September 2014.
Managing Director of VoicePlus, Michael Giffney, said:
"It's has been a goal of VoicePlus to achieve this award for many years. It was six years ago we began collaborating with CCA to develop a unique customised solution for mobile fleet management - the Atrium+ Solution. In FY14 Atrium+ delivered quantifiable value, innovation, productivity gains and brilliant customer service."
The award was presented to VoicePlus by CCA Chief Information Officer, Barry Simpson. He said:
"The customer service ethic at VoicePlus is one to aspire to. The team has a can-do attitude combined with forthcoming ideas about better ways to manage CCA's telecommunications services. With a team of 28, this small business has punched well above its weight for CCA."
Ali Basharyar, VoicePlus Account Manager, was also honoured with an individual award as a Finalist in the Account Manager category.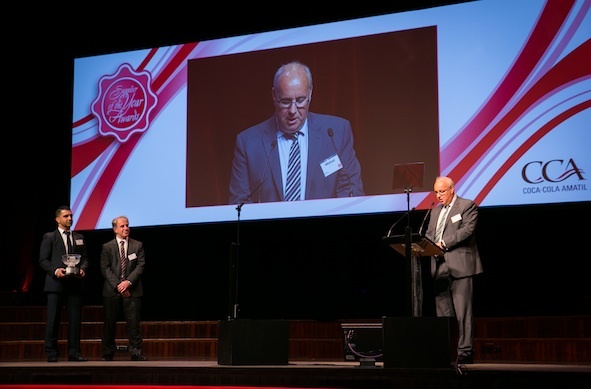 Above: VoicePlus Managing Director, Michael Giffney delivers his acceptance speech after VoicePlus was
named CCA Supplier of the Year - IT and Telecommunications.
Step 1: VoicePlus as Telstra Account Managers
VoicePlus was bought into the CCA account by the Telstra Account Team in 2008 to assist CCA in managing the day-to-day operational activities of a large scale mobile fleet.
Over the years we have initiated and led discussions with CCA stakeholders including the departments responsible for procurement, finance, IT and human resources.
The Atrium+ solution was developed in collaboration with CCA and is the result of innovative problem-solving to reach a solution which is unique in Australian business.
At the outset of our relationship with CCA, three clear strategic objectives for the management of the CCA mobile fleet were identified:
to increase employee productivity through improving mobile service operations
to reduce costs through maintaining control of purchasing, managing usage, auditing billing and application of clear policies and procedures
to exploit new technologies to achieve the first two objectives and to ensure CCA remained the leader in their market
We also identified existing issues and provided benchmarks for the state of the fleet. Some issues raised included:
a time lag in attending to employee's mobile phone issues including repairs, change of user details, and application of services such as international roaming
a delay in the ordering and delivery of phone hardware
a lack of staffing resource to make timely changes to voice and data plans which would result in cost efficiencies
a lack of inhouse knowledge about new products on the market which could result in cost efficiencies
an overwhelming mass of paper bills which made meaningful comparative analysis almost impossible
an asset database that was incomplete and inaccurate
Step 2: VoicePlus SmartFleet Survey
CCA adopted a strategy developed by VoicePlus to address the agreed objectives and the issues raised by the audit.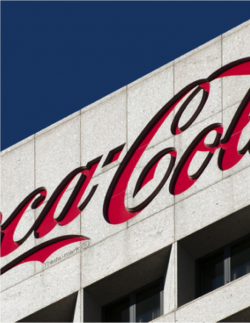 The first strategic action was to compete a SmartFleet Survey to benchmark the state of the CCA fleet. The SmartFleet Survey is a web-based survey tool developed by VoicePlus to audit the mobile fleet, authenticate User details, allocate cost centres, and identify low or no usage services. This process took place over 3 months and eventually resulted in the cancellation of 200 services for an immediate significant cost saving.
The second stage of the strategy called for a rationalisation of the mobile fleet and reassessment of all contracted voice and data plans to ensure cost efficiency. VoicePlus continuously studies individual usage patterns and recontracts employees to voice and data plans which more accurately met their needs.
Step 3: Telstra Essentials+ Solution
VoicePlus initially implemented the Telstra Essentials+ solution which is provided at no charge to Telstra customers. An AccessPortal provided 24/7 access to procurement of mobile devices and contracted plans, as well as Telstra network services such as international roaming, SIM card replacement, and device repairs.
Step 4: VoicePlus Atrium+ Solution
VoicePlus now provides CCA with the Atrium+ Solution, which was developed over the past five years, to address issues as they arose within the CCA fleet, and to improve employee productivity and control costs.
The Atrium+ solution includes:
Atrium SmartPortal - with SSO and intranet integration to manage the purchase and delivery of hardware and services from all CCA employees including automated approval gathering from managment for all orders; activating/deactivating Telstra network services; and providing a platform for the Atrium Control and Atrium Lifecycle solutions.
Atrium Control - including Telstra Bill View which provides individual employees and managers with monthly bill transparency, business intelligence reporting to catch billing errors; a dedicated SmartFleet Outsourced Help Desk giving CCA employees a one-stop shop for resolution of all mobile phone issues; and a SmartFleet Registry which is an automated asset database updated as activity occurs through the Atrium SmartPortal.
Atrium Lifecycle - an automated system of retrieving devices and services from employees departing the business and redeploying them ensuring security of data and cost savings. This program has recently been extended from just the mobile phone fleet to include laptops and tablets.
Step 5: Results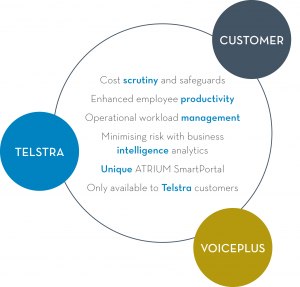 Outstanding value with a positive ROI from the introduction of the Atrium+ Solution.
Enhanced employee satisfaction arising from the automated self-service Atrium+ environment.
Enhanced employee productivity arising from improvements in hardware delivery and device service management.
Outstanding customer service meeting all SLAs
VoicePlus provides ongoing account management and consultancy services working in collaboration with CCA and Telstra.