VoicePlus enterprise customers are earning up to $50,000 each mobile fleet refresh by trading in their end of life smartphones, tablets and laptops.

Trade-in earnings delivering $thousands
A new trade-in service being offered by VoicePlus for end-of-life or unwanted devices is earning enterprise customers thousands of dollars.
The service includes an optional - but recommended - secure data erasure process to National Security Agency standards to ensure any residual corporate or personal data on the device is cleared.
Secure trade-in is win for customer, society, environment
VoicePlus Project Manager - Enterprise,
Justin Falston,
said the service has proven popular with enterprise customers who have a continual need to divest hundreds of end of life devices annually.
"Initially VoicePlus offered a service to recycle devices in an environmentally sustainable manner. The new trade-in service means we can recycle devices in a safe, ethical manner and also provide income back to the customer for each device.

"It is a win-win for all concerned - the customer, society and the environment.

"As an example, one of our enterprise customers is set to earn $50,000 by trading in devices being replaced in a fleet upgrade."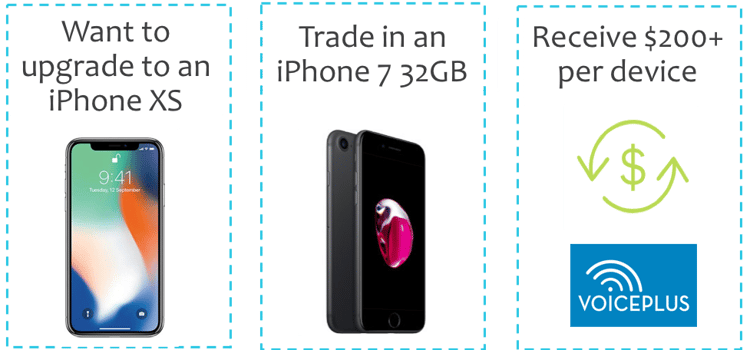 Funds used to reinvest in upgraded devices
Enterprise Solutions Executive,
Anna Acopian,
said most enterprise customers choose to reinvest the earned funds into additional tech equipment purchases or upgrades.
"Getting a return on unwanted devices can offset the cost of new devices. It is changing the way that enterprises are thinking about upgrading their mobile fleet.

"Enterprises were starting to hold onto their smartphones for longer than 24 months. This has risks for productivity as older devices have higher failure rates and increasingly do not support the latest OS updates. The trade-in earnings are off-setting a portion of the upgrade costs which is encouraging enterprises to act earlier."
©VoicePlus. All rights reserved.
---
Related Blogs