The Australian government's decision to ban Chinese company, Huawei, from involvement in the 5G rollout is a
"significant change which fundamentally undermines Australia's 5G future", asserts Vodafone.

Vodafone Hutchison Australia's chief strategy officer, Dan Lloyd, has implied Australian Government's decision has been hasty and reactionary.
"We have always said that national security is paramount. We always have and always will meet our obligations under Australian law.

"However, major decisions of this nature need to be made with rigour, accountability and careful consideration of the economic, productivity and social implications for the country.

This decision, which has been dropped on the eve of the 5G auction, creates uncertainty for carriers' investment plans."
Both Vodafone and Optus use Huawei equipment in their 4G networks, and the deployment of 5G equipment from Huawei has been expected to give them an advantage over their main rival, Telstra.
Vodafone and Huawei signed a Global Framework Agreement in 2016 extending and formalising its strategic alliance "to win business together" in the enterprise market.
At the time, Leon He, President of Huawei Enterprise West Europe said: "This agreement will allow us to work closer together to deliver industry leading customer solutions in the area of Enterprise which is so strategically important to both companies."
Optus and Telstra deliver diplomatic responses
Both Optus and Telstra have refrained from joining the debate with both making statements in support of the Government's national security objectives.
Optus' vice-president, regulatory and public affairs, Andrew Sheridan, said Optus welcomed the certainty that the decision provided.
"Optus shares the government's objectives of ensuring the security of Australia's information, communications and critical infrastructure. Our track record demonstrates collaboration with Government, departmental agencies and vendors to develop appropriate controls and safeguards to ensure that our network and services remain secure."
A Telstra spokesperson issued a short statement in response to the ban: "We have seen the announcement and will comply with the government's direction."
New foreign affairs minister defends decision
The incoming foreign affairs minister, Marise Payne, has defended a decision that shut Chinese telecommunications giants out of Australia's 5G network, saying it was necessary to protect national security.
She said the decision was not targeted specifically at Huawei and ZTE and applied to any company that had obligations that clashes with Australia's national security.
"It's targeted and aimed at solely protecting Australia's national interests, and the protection of Australia's national security. That is our first responsibility as a government, it's our first responsibility as a national security committee."
She said the decision reflected concern to protect Australian interests from any companies who could

be subject to extrajudicial directions from a foreign government that conflict with Australian law.
"That is part of the legal system in which they work, so yes that is a concern," she said, adding that it had been a "well-considered" decision consistent with others made across the world.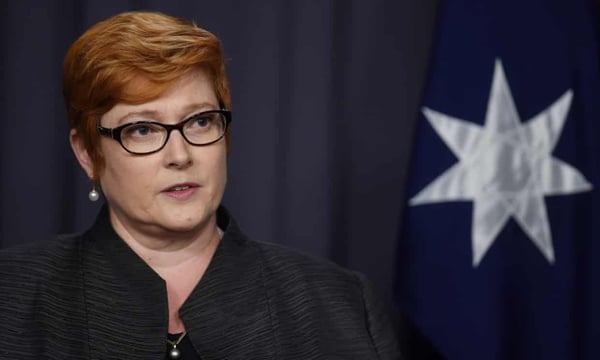 Chinese Government says decision is "wrong"
"The Australian government has made the wrong decision and it will have a negative impact on the business interests of China and Australia companies," says China's commerce ministry in a statement on its website.
Meanwhile the Chinese state media has described the decision as a stab "in the back" to Huawei, and "disappointing and poisonous."
Huawei labels decision "politically-motivated"
Huawei has responded to the decision to ban it from involvement in the rollout of the new 5G network as "politically-motivated" and "not the result of a fact-based, transparent, or equitable decision-making process".
"Huawei has never been asked to engage in intelligence work on behalf of any government. Interpreting Chinese law should be left to qualified and impartial legal experts. A mistaken and narrow understanding of Chinese law should not serve as the basis for concerns about Huawei's business."
Huawei said the Chinese national intelligence law could not be used to compel it to install backdoors, listening devices, or compromise the telecommunications equipment of other nations.
---
Related Blogs