TPG has almost 600 mobile tower sites in proposal stage, as the carrier begins to deliver on its plans to aggressively enter the 4G market. This represents 30 percent of its proposed mobile network.

Towers equal 30 percent of network rollout
According to figures released byOzTowers, TPG now has 595 site proposals or around 30% of their initial planned rollout. It is believed only one site, in Adelaide, is currently active.
The data is drawn from the Radio Frequency National Site Archive which is maintained by the Australian Mobile Telecommunications Association (AMTA).
TPG's $2 billion 4G network will eventually cover about 80 percent of the Australian population using somewhere between 2000 and 2500 sites nationally. This is far fewer than the almost 8,000 base stations that Telstra has, but will allow TPG to enter the market, initially with a data-only service.
TPG will deliver data-only service at launch
In a bold move, TPG will launch later this year without a traditional voice service offering.
Traditional voice calls will only be available later as the network is rolled out. Initially customer plans will be data-only. Calls will only be able to be made over internet protocol (IP) using applications like Whatsapp, Facebook Messenger calls and Viber.
The move allows TPG to enter the mobile space at a lower cost, using fewer base stations and small cell technology.
"When you look at the offer we've put together, it gives us an opportunity to fine tune the network along the way, get a lot of feedback from the people who are using in free of charge...that's why the free period needs to be a win-win for the company and our customers."
TPG Trial Locations
TPG shared a list of trial locations for its network back in May. The trials could begin as early as Q3.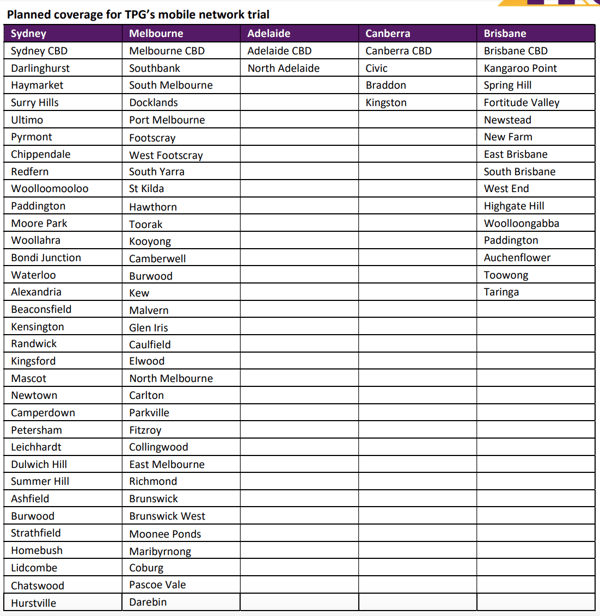 Analysts predict success for TPG Mobile
Meanwhile renowned Australian entrepreneur, Bevan Slattery has predicted that TPG could rise to become Australia's number two telco in five years and number one within a decade.
Telstra has responded to the increased competitive pressure by cutting 8,000 jobs and announcing a major strategic plan known as Telstra 2020. Meanwhile Optus has closed down its Virgin Mobile stores as it "restructures to face a disruptive market."