Telstra has announced a new technology service stack - Connected Workplace - aimed at delivering to the B2B mid-market. Telstra expects to launch the
one-stop ICT solution before Christmas.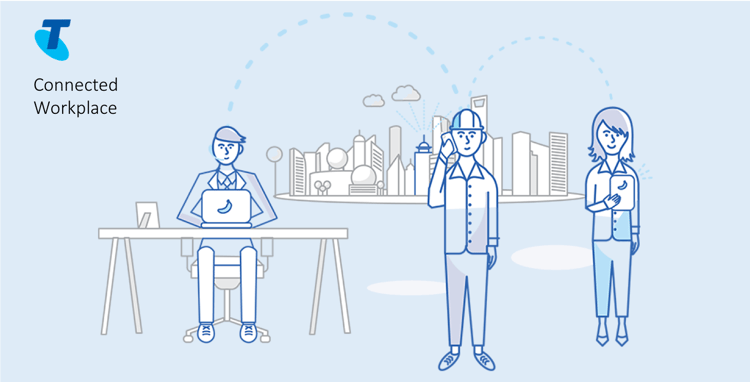 'Connected Workplace' showcased at Telstra VantageTM
"I can honestly say that in the B2B side of the business, we haven't invested much in technology probably for 10 years. So to stand up a new stack and then be able to announce our first new all-digital solution here at Vantage is very exciting,"
The Connected Workplace product is expected to launch commercially before Christmas, and is currently in trial with around 100 customers.
"We're creating it with customers -- if it doesn't pass the customer test, the features don't get released into Connected Workplace," Riley said.
First new product in Telstra 2022 strategy
Telstra first announced the Connected Workplace during the unveiling of the Telstra 2022 strategy in June, saying that Telstra has been curating and acquiring IP for a "new digital stack and technology base".
"We have connected workplace in minimum viable product," Riley said at the time.
"It is the ability to provide fixed, voice, UC, messaging, with add-ons for mobile and applications ... it will be all-digital, it will be ordered in minutes, provisioned in minutes to hours, and everything will be built electronically, with the ability for the customer to flex up and down in volume in real time."
Two Worker Modules in Pay-Per-Seat solution
Connected Workplace is available at two levels - office workers and mobile workers.
The Office Worker category includes unlimited voice, video, and collaboration; internet data; managed private network; and internet protection for web and mail services.
The Mobile Worker category includes unlimited calls and text; FairPlay data; and device management.
Telstra also has add-ons of Office 365, Workplace Wi-Fi, a range of devices, and bandwidth boosts.

"It's a simple, pay-per-user, pay-per-month, flexible construct for small to medium business. It's digitally ordered, you can track the order digitally through the process, it's digitally provisioned, you'll get a digital PDF built."

VoicePlus offers Telstra Essentials at no charge to Telstra customers
As a Telstra Partner, VoicePlus offers essential support services to Telstra customers at no charge. Learn more about Telstra Essentials.
---
Related Blogs