Telstra has stopped selling its own-brand ZTE devices, after the Chinese manufacturer was forced to cease trading due to a United States Government-imposed ban.

The United States government has issued a denial order forbidding firms from supplying ZTE with components and technology, after ZTE was found to have violated US export restrictions by illegally shipping goods to Iran.
The US Department of Commerce's Bureau of Industry and Security (BIS) in April imposed the denial of export privileges against ZTE.
The department said that in March 2017 the company agreed to pay a $1.19 billion penalty for breaching sanctions on Iran and North Korea. ZTE also agreed to a seven-year suspended denial of export privileges.
"The Department of Commerce has now determined ZTE made false statements to BIS in 2016, during settlement negotiations, and 2017, during the probationary period, related to senior employee disciplinary actions the company said it was taking or had already taken," a statement from the department said.
The order has led to ZTE ceasing its major operating activities.
Telstra ceases sale of all ZTE devices
Telstra has announced it will stop the sale of 19 Telstra-branded ZTE mobile phones and 3 mobile broadband devices through its stores and partners, effective immediately.
Telstra has contacted enterprise and business customers who have purchased ZTE devices to provide reassurance there will be "no immediate impact" and that Telstra will keep customers informed should the position change in the future.
The biggest risk for existing ZTE owners is that the US Government denial order restricts Google from releasing new software updates for ZTE devices. ZTE has submitted an application to the U.S. Department of Commerce to have the denial order suspended.
Telstra looks to source alternative Telstra-brand devices
The loss of the ZTE devices leaves a hole in Telstra's device product offering. Most of Telstra's ZTE-produced phones were low-cost devices offered either as pre-paid phones or on low repayment terms as mobile contract options.
Telstra's Head of Innovation & Strategy for Consumer and Small Business, Michele Garra said:
"We are working with our device partners to source alternative models as quickly as possible to help meet the needs of customers. We want to make sure any device we offer customers is available through all of our stores. We are hopeful that ZTE will be able to reach a resolution to this matter soon so that we can recommence selling Telstra-branded ZTE devices".
Here is Telstra's current advertised pre-paid handsets, although it's worth noting that some are listed as "clearance" models so stock may be limited: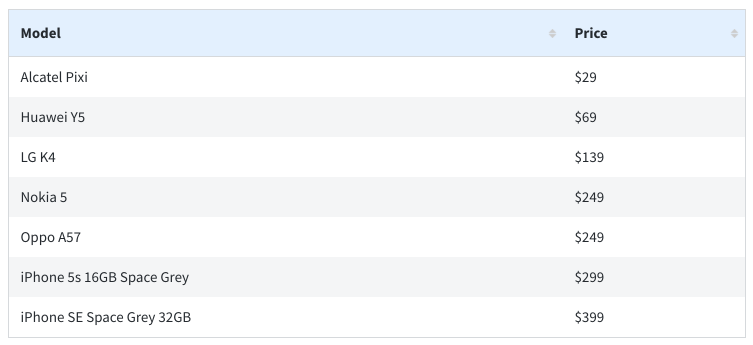 List of Telstra-brand ZTE phones that have ceased sale
Telstra Flip 2
Telstra Tough 4
Telstra Tough 5
Telstra Tough Max 2
Telstra 4GX Enhanced
Telstra 4GX Premium
Telstra Flip 2
Telstra Lite
Telstra Lite Smart
Telstra 4GX Smart
Telstra Smart Plus
Telstra 4GX Plus
Telstra 4GX HD
Telstra Easycall 4
Telstra Slim Plus
Telstra Buzz 4GX
Telstra T96
Telstra Tempo
Telstra Cruise
Telstra ZTE Mobile broadband devices
Telstra 4GX Wi-Fi
Telstra 4GX Wi-Fi Plus
Telstra Pre-Paid 4GX Wi-Fi
---
Related Blogs