Microsoft's cloud-powered tools want to simplify how you manage data in your workplace. Intune offers you and your business effective new ways to not only provide, but also deploy, manage, and secure all endpoints and applications.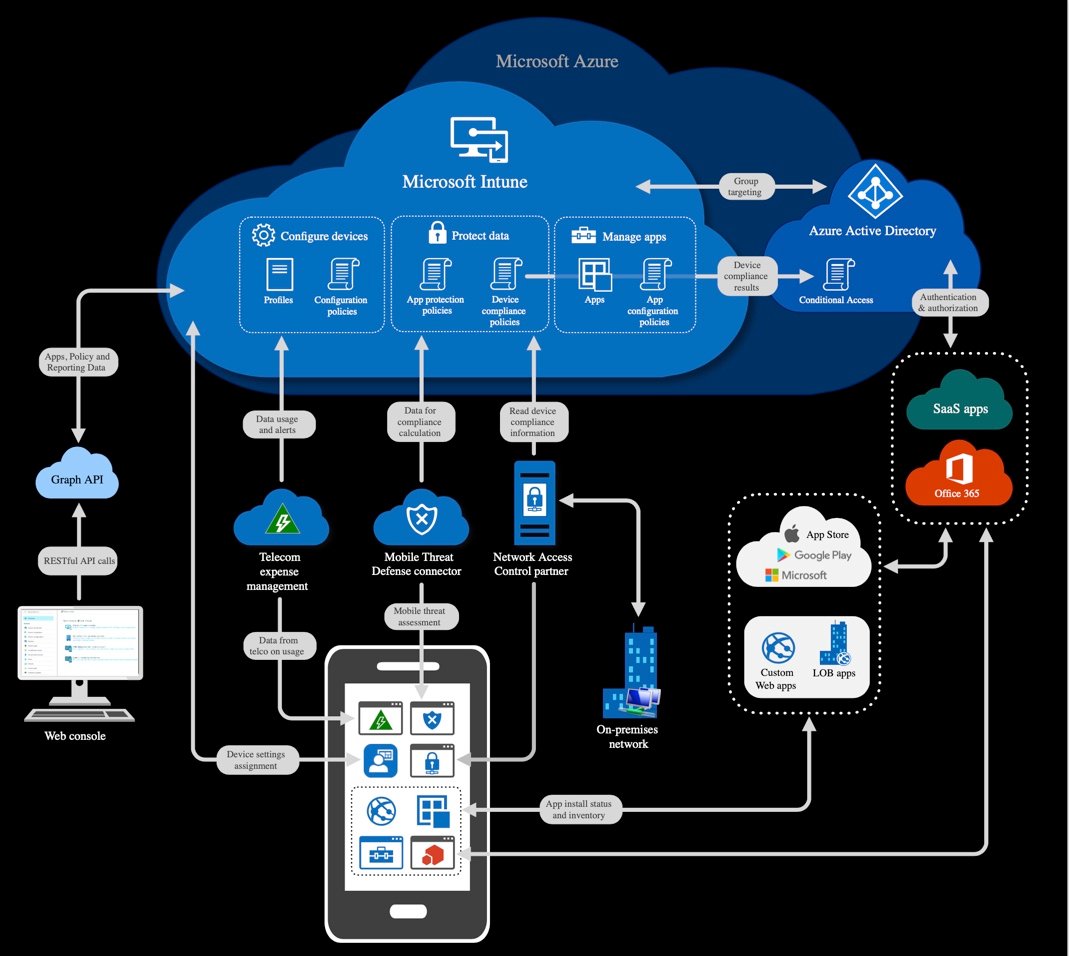 Being fully integrated with Office 365, your employees will enjoy total freedom on their devices to ensure they stay productive, while also staying secure. And best of all, Intune is included in Microsoft's Enterprise Mobility + Security (EMS) suite and comes with global deployment support all day, every day.
Device management.
One of Intune's best features is the way it allows you to customise how you manage devices. Both BYOD and business owned, you can figure out what you actually need to secure and how, and then implement these settings across the board, or personalised to the individual user. By enrolling in Intune, employees can have full access to your organisation's resources, and administrators can:
View all enrolled devices and get an inventory of those accessing organisation resources.
Ensure devices meet your security standards, i.e. blocking jailbroken devices.
Ensure all devices have quick and easy access to your Wi-Fi network or use a VPN to connect to your network.
Access reports on users and devices that are compliant and not compliant.
The ability to remove data if a device is lost, stolen, or no longer in use.
Should BYOD users not want to enrol and operate under this level of management, they can opt for limited access to resources such as email or Microsoft Teams. Then by implementing the requirement of multi-factor authentication (MFA), you can have peace-of-mind knowing your data is safe, while productivity isn't affected.
What's more, is Intune will cover pretty much all devices operating in your workplace. With full support currently being offered for:
Windows devices

Windows 10 Mobile
Windows 10 Desktop
Windows Phone 8.1
Windows 8.1

Apple devices
Android devices
Application management
Intune also provides application management, allowing for another level of protection for your data. Once again, apps on both business owned and BYO devices can be managed, with administrators being able to:
Select specific apps for different user groups, different devices, or particular groups and devices.
Ensure apps have specific settings enabled, like not allowing copy and paste from work-based apps.
Automatically update existing apps already on a device.
Track app usage
Wipe only the organisation's data from a device's apps.
Why the cloud?
The cloud offers the best universal coverage for all devices and Intune has used this to its advantage and can always be up-to-date with protecting your employees' devices and the data that is on them. Plus, being cloud-based means the cost of services is usually relatively low. However, Intune comes with Microsoft's Enterprise Mobility + Security (EMS) suite, so that's not a worry.
What's new?
Microsoft seems to be continually upgrading the platform, with recent improvements focussing on simplifying the enrollment process. Major work in past weeks has just seen the release of updated navigation, new platform filters and a whole new home page. Plus the usual behind the scenes upgrades and tweaks to ensure it does as it is supposed to.
Is Intune right for me?
Intune offers an imposing amount of security and comfort across a diverse endpoint ecosystem. It is flexible for a modern and fast-paced work environment and is based in the cloud, so it is always up-to-date. So, if you're looking to invest in or update your businesses' unified endpoint management, Microsoft Intune should be hard to look past.