The Samsung Galaxy S7, launched in Australia last night, is receiving rave reviews around the globe.
"The best phone of 2015 just got even better for 2016, with most of our prayers answered." Chris Martin, PC Advisor

"I have been left in awe of how successfully Samsung has combined design and usability: the Galaxy S7 is a smartphone with a soul." Kite Santamaria, AndroidPit

"I admit, the new Samsung Galaxy S7 unmasked here at MWC in Barcelona is a beautiful specimen of cutting-edge tech and seductive metal-and-glass build." cnet.com

"Let's get this out of the way first: battery life seems like an absolute beast so far." Reddit.com

"It's like a greatest hits of Samsung's flagship phones, culminating the bits that everyone liked and adding them to the lovely design that came last year." TrustedReviews.com
SPECIAL PRE-ORDER OFFER : GALAXY GEAR VR HEADSET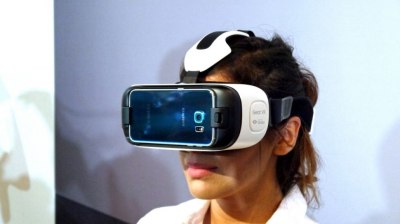 Samsung launched the new S7 and S7 Edge devices last night, with both offically available from 11 March.
Until 10 March, those who pre-order the devices will recieve a bonus Samsung Galaxy Gear Virtual Reality headset valued at $99.
Samsung S7 RRP $1176
Samsung S7 Edge RRP $1296

Water and dust resistant: can withstand being immersed in fresh water up to 1.5m deep for 30 minutes

Re-instated MicroSD slot: expandable 200GB storage

Personalised automatic brightness control: remembers your preferences at various levels of ambient light

Always-On screen: get time, date and notifications all the time

Seriously improved battery life with wireless charging

Microsoft apps pre-installed

Camera reduced from to 12MP but faster auto-focus and low light performance
What's with the Always-On Screen ?
A new feature is the Always-On screen so you can check the time, date and notifications easily.
To conserve battery life, the screen will automatically turn off at night and when the phone is in your pocket.
Samsung says the always-on display uses only 1% of the phone's battery and could even stretch out battery life if it keeps you from unlocking the phone - which uses more energy - just to check the time.
The downside is the display doesn't support third party applications, which means no alerts from Facebook, WhatsApp, Instagram, or anything else that isn't built by Samsung.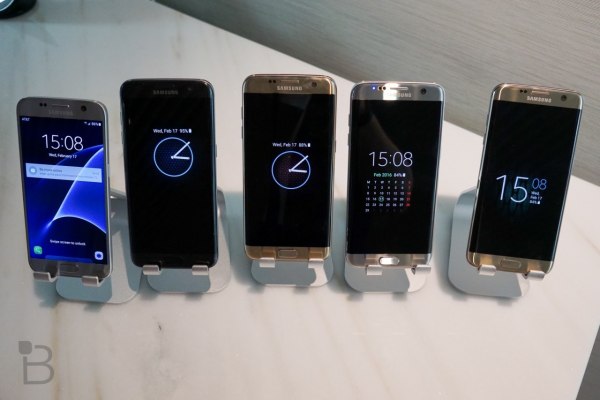 Why have the Camera Megapixels been reduced?
So if you naively thought more megapixels equals better quality camera, then the Samsung Galaxy S7 is here to re-educate us.
It turns out that megapixels are not all that matters in a camera. Sensor, aperture size, lens quality and camera speed also make a big difference.
So Samsung has dropped the megapixels on the S7 from 16mp to 12mp but they have greatly improved the speed of focus and performance in low light conditions.
In fact Samsung claim the S7 focuses 4x faster in low light, and 2x faster in daylight, and you'll achieve 95% brighter pictures. This results in less blur particularly in action photos and quick snaps.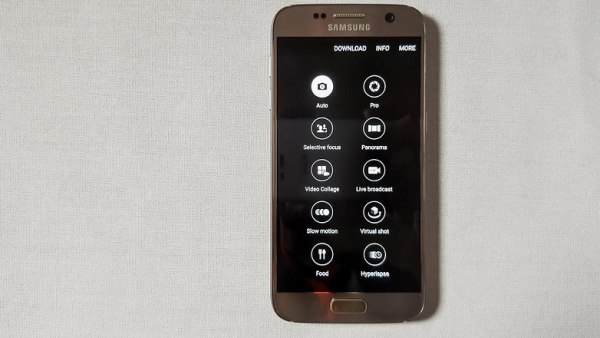 So how good is the battery life?
We all want our phone battery to last longer and the best way to achieve that is to fit a bigger battery, which is exactly what Samsung has done.
The Galaxy S7 battery is 3,000mAh compared with the Galaxy S6 battery which is 2,550mAh.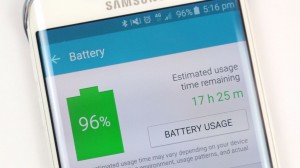 According to Samsung the increase is possible becuase of a new molding technology that creates curved batteries to optimise the available space.
It will be a little difficult for the everyday consumer to check this out for themselves however as the shape means the battery is not able to be removed.
Samsung claim the Galaxy S7 can charge from 0-100% in 90 minutes when connected to a power outlet; and takes 2 hours with a wireless charger. They also claim the battery can get from 0-50% in 10 minutes.
Samsung expect the battery life in the S7 should be more than enough for one day's worth of average usage, and the charging time will be quick enough that heavy users will be able to regain large portions of battery for the day with small 10-15 minute charges periodically.
What software comes installed?
The Galaxy S7 comes with Android 6.0.1 Marshmallow.
Early reviewers report around 25 preinstalled applications.
These include Microsoft Office apps and Samsung Pay. Also Samsung+ is a free mobile app for live tech support, device diagnostics, exclusive content and special offers from Samsung.