Samsung Dex has had a makeover.
Samsung has breathed new life into their Dex platform and now offers users a smooth and refreshing take on the phone PC concept. Plus, they have added a whole lot more to the equation too.
What is it, and what does it do?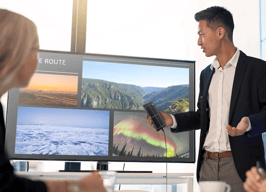 If you don't know Samsung Dex, it is software that allows you to connect your Galaxy device with a USB cord and bring it to life on your computer or a big screen - unlocking all the information on your phone without the need to send or transfer it.
Previously, you needed a display, a mouse and a keyboard, with the phone acting as the CPU. Now, you can plug the phone or tablet into your computer or monitor for seamless integration between the two.
Multitask multitask multitask.
These days we all want to do more with our time. Be it work, be it play or a perfect combination of the two. Samsung Dex makes this super easy and allows you to use apps, play games, or even watch a movie on the big screen while checking essential emails, working on documents or even talking on the phone at the same time.
Perfect for meetings.
Dex offers a few features that can make your big meeting or presentation even more straightforward. By plugging your device into a large screen, you then use it as a control for a slideshow and even in hand notes. It also allows for video conference calls to be made using the Galaxy device that will be displayed on a big screen, while the device itself can be used to take notes or walk through a presentation.
Get creative.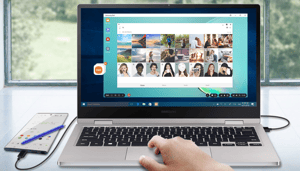 How you use it is obviously up to you, but if you're a budding artist and find your phone's
screen too small to create on, switch it to the big screen and get a closer look at what you're doing. And if you're looking to edit photos or videos, but struggling on the device, Samsung Dex is there to help you.
Or, if you find yourself unable to pass that final level of the game you've been playing on the train each morning, why not put it on a bigger screen and give yourself an advantage?
Overall.
You may be reading this thinking that this may not seem like something all that new and revolutionary, well, you'd be right. We all watch TV with our phones in our hands and Bluetooth and things like Airdrop allow for reasonably easy sharing documents. But, what Samsung Dex brings is new and super seamless ease to all this - it gives unrestricted access to all the information and apps on our phone - even if it is connected with a cord.