From 17 October 2014, Telstra has announced new Office 365 plans to make moving to The Cloud even more attractive for small to medium businesses.
The three plans are:
| | |
| --- | --- |
| Office 365 Business The essential Microsoft Office suite and OneDrive for Business with 1TB storage | |
| Office 365 Essentials Business productivity tools including Exchange Online, SharePoint® Online, Lync Online, Office Online and OneDrive for Business with 1TB storage | |
| Office 365 Business Premium combining the value of Office 365 Business and Office 365 Business Essentials for a total solution | |
How can VoicePlus Help with A Decision about moving to The Cloud ?
We understand that most small to medium sized businesses may not have an IT expert onboard. Maybe a move to The Cloud is right for your business, but maybe it's not.
The first step is to undertake a Network Assessment to find out and that is where we come in.
We have our own inhouse fulltime Cloud Services Specialist, Jony Khan, who will walk you through the steps to ensure cloud migration is the best solution for your business.
When you partner with VoicePlus, we will provide you with a NO OBLIGATION assessment of your current situation, meeting with you to discuss your current issues and talking through how a Cloud-based solution might look for your business.
Make an Appointment with Jony Khan
What is The Cloud?
In the simplest terms, cloud computing means storing and accessing data and programs over the Internet instead of using a server or a computer's hard drive.
The Cloud is just another name for the Internet. Therefore you can't just put your stuff in The Cloud. You actually have to put it in someone's storage facility in The Cloud and then you access that storage facility over the Internet.
At VoicePlus we partner with Telstra - the market leaders in the Australian business market. Telstra provide a range of services specifically developed to help Small-Medium Business move to The Cloud.
What does it cost?
There are two parts to determining the cost to your business:
Cloud Solution design and implementation
Cloud Services Fee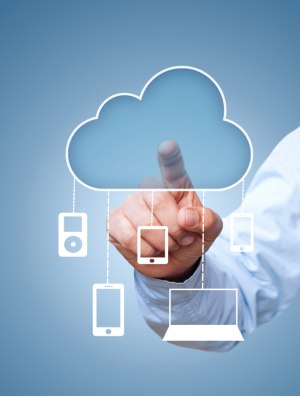 Cloud Solution Pricing
There will be a cost to the business of designing and implementing your Cloud Solution.
This will include:
Site Readiness Audit

User Experience Impact Report

Solution Design

Project Management Report

Project Implementation

Project Sign-off

Training
These are the Plans referred to at the start of this article. Telstra offers a range of Pay-As-You-Go or Monthly Subscription plans.
These are dependent on your business requirements and are flexible to ensure you only pay for what you need.
Why would I migrate my business to The Cloud?
The key benefits to moving to the Cloud are:
Cost Efficiencies
Reliability
Security
Flexibility
1. Cost Efficient
When you move your ICT services to the Cloud, you will no longer require a physical on-site server. Servers are expensive to purchase upfront and require constant maintenance. The size of a physical server limits growth and becomes unable to cope with new technologies over time. Servers also use up physical space and overheads.
Telstra Cloud keeps your software up to date without additional charge. So no constant purchasing of new software. And no more having to keep on top of constant software updates and patches.
2. Reliability
Telstra Cloud has a 99.9% service provision guarantee and 24/7 availability. Powerful data centres based in Australia, Hong Kong, Singapore and the United Kingdom are managed through the Telstra Global Operations Centre and a dedicated Managed Network Operations Centre monitors the network 24/7. This is the level of reliability that your business needs.
3. Security
The security provided by Telstra Cloud is far superior to any security measures individual small-medium business could adopt for their physical onsite server.
A team of security experts has designed and built industry-standard hardware and software based firewalls and remote access security. Your virtual servers will be more secure as your typical SMB on-site server, meanwhile regular network and infrastructure security updates and maintenance provides extra security for your data.
Telstra guarantees the following data centre security features:
On-site security personnel 24/7

Electronically-secured floors with access restrictions

CCTV surveillance for corridors and rooms hosting ICT infrastructure

Secure ICT infrastructure, including locked cabinets and cages.
4. Flexibility
Telstra Cloud allows you to build a flexible Virtual Server solution and to scale up and down as demand requires.
Set up one or a number of virtual servers, select an operating system and maybe internet access and some extra storage. To build a complete solution, choose from virtual server add-ons such as secure private networks, applications and security. Scale up, reconfigure and add more servers to get a new office or project up and running, without the need for costly upgrades or new hardware. Scale down when the project is over. Meet any changing staff requirements and workload spikes.