VoicePlus account manager, Ali Basharyar, has been named as a Finalist in the Coca-Cola Amatil Account Manager of the Year 2014 awards.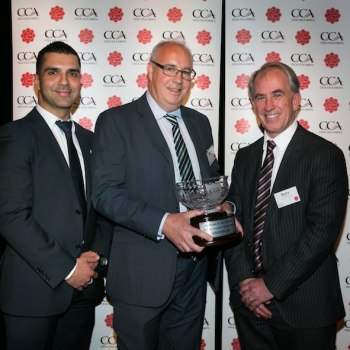 L to R: Ali Basharyar, Michael Giffney - VoicePlus MD, Barry Simpson - Coca Cola Amatil CIO
Ali has led the CCA account since his arrival at VoicePlus in mid-2011, growing the business significantly in that time.
He has overseen the development of the Coca-Cola Amatil business from the VoicePlus Essentials solution through to the unique, highly customised Atrium Managed Mobility solution.
Ali has 13 years' experience in the Telecoms industry, working within large organisations including Microcell Solutions and Rogers Communications in Toronto Canada.
He has wide-ranging experience having held the positions of Retail Store Manager, District Sales Manager, Retail and Corporate Sales Rep, Mobile Technician, and Account and Relationship Manager.
Prior to joining VoicePlus, Ali was employed as Business Sales Consultant for Telstra's top "Tier 1" Enterprise & Government customers and was responsible for providing Mobile Device and Wireless Data Solutions for some of Australia's largest government and corporate clients.
---
Related Blogs