Many companies are coming to the realisation that not all employees need the flagship top-of-the-line smartphone. Enter the Samsung Galaxy A5, to be available from Telstra next week, at $649 outright or $624 as part of a Telstra plan.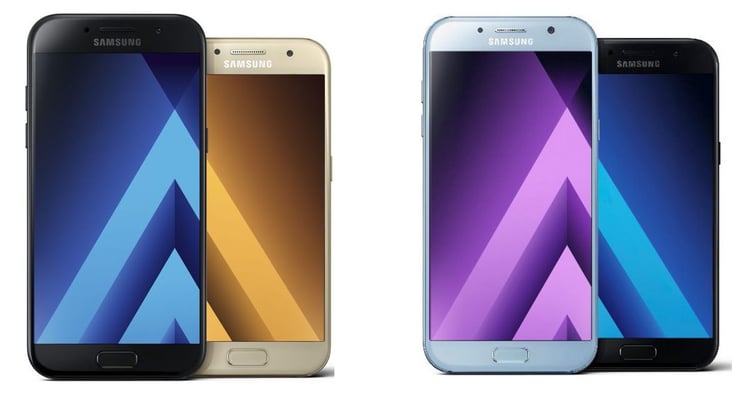 The A5, and its larger varient the A7, were released overseas at the start of 2017 so the verdict is already well and truly in - these are bloody good phones.
Take all the best bits of the now year old S7, add USB-C, wrap it in a very stylish body and you've got a cracking good phone.In fact so good I don't know why you'd pay more. - Trevor Long, EFTM

The Samsung Galaxy A5 is the sort of phone that has me questioning why the vast majority of people should buy a flagship device. After all, when a $649 device ticks almost all of the right boxes, why pay more? - Max Parker, Trusted Reviews.com


The Galaxy A5 2017 is a fantastic mid-range phone, with the looks of a flagship and some decent performance and all-round specs. - Marie Brewis, Tech Advisor UK
Fills gap in the market
Both devices have had a low key release in Australia - no big budget billboard campaign for the A Series phones.
Apparently Samsung see the market for the A5 as teenagers who want all the smarts of a flagship phone but don't have the buying power required for the $1,000+ premium model.
However founder of managed mobility provider, VoicePlus, Michael Giffney says the device will be popular with Australian corporates.
"More and more I'm having a conversation with my customers which starts with 'we don't want to pay $1,000+ for a phone for everyone. What are our options?'

"The Samsung Galaxy A5 is as good a mobile phone as most employees need, and at a significantly lower price point."
iPhone SE or Samsung Galaxy A5?
The only mobile phone that is a comparable device to the Galaxy A5 in terms pricing is the iPhone SE. The iPhone SE has an RRP of $679.
However in terms of specs the A5 has the following advantages over the iPhone SE:
larger screen: 5.2 inches v 4 inches
more storage: 32GB plus expandable memory card v 16GB
more RAM: 3GB v 2GB
better battery: Li-Ion 3000mAh v Li-Po 1642 mAh
superior display: 1080x1920 pixels v 640x1136 pixels
better camera:16MP front and back; v 12MP back and 1.2MP front
water resistant, dust proof
gorilla glass screen
One disadvantage of the Galaxy A5 is that it comes with Android Marshmallow 6.0.1, rather than the latest OS which is Nougat 7.0 The OS update for the Galaxy A5 in Australia is scheduled for the first half of 2017 but no firm date has been announced.
One reason why corporates will often stay with either the iPhone or android devices is if they have invested in applications, says Giffney.
"It can be really comfortable for a company to stay with what they know, and if they have invested in app development for iOS there is a fear that it will be time-consuming and expensive to make a change. But the device manufacturers are becoming more responsive to these barriers. Companies should talk to their mobility partner about options for duplicating apps from iOS across to android as there may be financial assistance and support available to them."
Related Blogs