Just last week I heard about an Australian enterprise buying an extended warranty for their corporate iPhones because they had been told their Apple warranty "only lasts 12 months." At best this advice is a half-truth. At worse, it's downright misleading!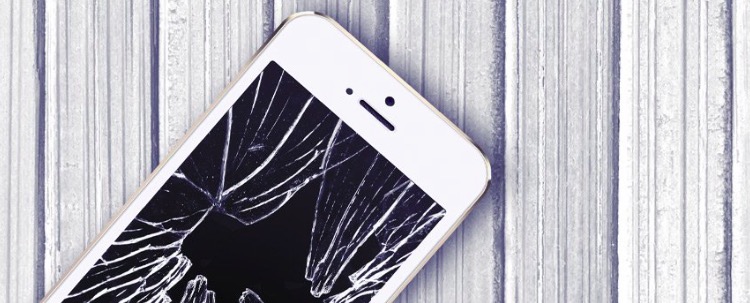 What is the deal with smartphone warranties?
So what is the truth about smartphone extended warranties and are they worth the money?
When smartphones became common in the mid-2000s, all brands came with only a 12-month warranty. This paltry timeframe seemed grossly unfair, especially when most phones were costing over $1k and bought on 24-month contracts. Enter the Australian Competition and Consumer Commission (ACCC).
In 2008, the ACCC began shouting from the rooftops that consumers who signed up to a contract should reasonably expect the warranty to last for the whole duration of the contract. The ACCC began a sustained campaign to bring the manufacturers and sellers into line.
Growing public and legal pressure pushed Vodafone to move first, in 2010, when it extended its 12-month warranty to the duration of any contract; Telstra and Optus followed in early 2011. Consumers who purchased their device from a carrier, had a the warranty in line with their contract period - usually 24 or 36 months.
The same year Australian Consumer Law was updated to legislate this level of protection. The phone manufacturers dragged their heels for another two years until the end of 2013, when Samsung and Apple begrudgingly announced a 24-month warranty in Australia only.
Are we still getting bad advice?
For some years after the law change, consumers continued to get bad advice. In 2014 the ACCC found over 400 cases of Telstra breaching Consumer Law with staff telling customers they were not entitled to any assistance from 12-month after purchase. Telstra promised a re-education program for staff to redress the issue.
But, it seems it's still happening in 2018.
It was only last month a VoicePlus customer was advised to buy an extended warranty because "iPhones only have a One Year warranty." This is technically true, but it is certainly not the whole truth.
What warranty do you get with your smartphone?
Nowadays, the standard warranty for smartphones purchased in Australia is 24 months, whether purchased outright or as part of a plan.
The only exception is Apple's One Year Limited Warranty, but that's a bit of a misnomer.
Even Apple has to honour Australian consumer law. The table below is taken from the Apple Australia website 2017.
Apple agrees it will provide its "own remedies...at any time within 24 months of the date of purchase.... and beyond 24 months for a number of its products."
So to say Apple only offer a One Year Warranty is accurate - but it's only part of the picture!
Apple attempt to differentiate between their One Year Limited Warranty and the legislative requirements by offering additional '"support services'" under their warranty.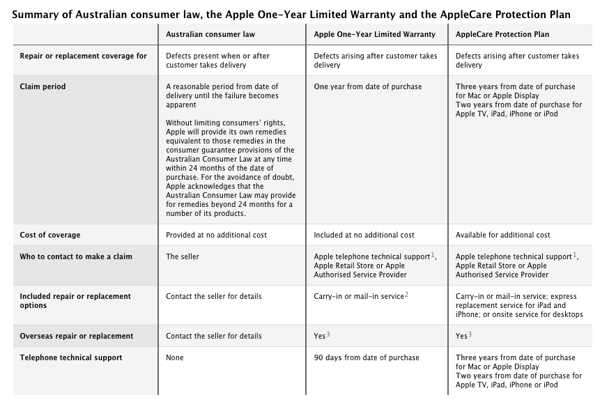 How does Australian consumer law protect mobile phone owners?
Smartphones (and other devices) are covered by Australian Consumer Law which legislates that consumers have the right to expect the products they purchase to be "fit for purpose", and should they prove to be faulty, the consumer should be provided with a repair, replacement, or refund. There is no time limit to these rights with the legislation referring to "a reasonable period of time."
In short, this means consumers are entitled to a remedy under their statutory rights for at least 24 months - and likely longer - whether or not the manufacturer's warranty has expired.
NOTE: Physical or water damage are not covered by Consumer Law as these are considered consumer mistreatment.
What does the extended warranty offered by Apple cover ?
Apple's extended warranty is known as AppleCare+. As of September 2016, AppleCare+ costs $189. This provides two year's cover from date of purchase, for the iPhone 7, 7Plus, 6S and 6SPlus, 5S and SE.
The AppleCare+ warranty includes two instances of repair or replacement at a subsidised cost. For screen damage the cost is $45 per incident and for any other accidental damage the cost is $149. It also offers 24/7 access to Apple Support and an express replacement service for an additional charge of $149.
Is AppleCare+ worth it for business?
First off, businesses don't need a warranty to make a claim for a faulty device, including battery. Australian Consumer law provides the right to a repair, replacement or refund for phones which develop a fault within the first two years - and probably longer.
However consumer law does not include misuse such as physical or water damage; and neither does Apple's One Year Limited Warranty.
So the benefit of the AppleCare+ Warranty is the inclusion of accidental physical damage.
Let's do the sums.
Under AppleCare+ each device is entitled to two repairs/replacements - either screen repair(s) for $45 or other physical damage repair(s) at $149 - within the two year period.
Let's compare the cost of repair/replacement for physical damage at the Applce Service Centre, with AppleCare+ warranty versus out of warranty.
iPhone

Apple Repair Centre

Out of Warranty

AppleCare+

Cost: $189

1x Screen repair
$208.95
(+$45) $234
1x Damage repair
$417.90
(+$149) $338
1x Screen & 1x Damage repair
$626.85
(+$194) $383
2x Screen repairs
$417.90
(+$90) $279
2x Damage repairs
$835.90
(+$298) $487
At face value it might seem worth thinking about, but that's being a little simplistic.
The most important step is to working out whether AppleCare+ is worthwhile is to know what the business incidence of repair is.
With corporate mobile fleets, our experience at VoicePlus is that repairs run at around 7% of users. So on a fleet of 200 devices that means about 14 repairs a year. This can vary according to industry and whether or not a corporate supplies protective cases with each device.
Comparison: 200 iPhone fleet with 7% repairs annually
No. devices
7% Repairs over 2 years
Repair screen, Out of Warranty, Apple Service Centre
AppleCare+ $189
Excess Charge
Total AppleCare+ & Repair Excess Fee
200
28
$208.95 x 28 =

$5,850

$189 x200 = $37,800
$45 x28 = $1,260

$39,060
No. devices
7% Repairs over 2 years

Repair Damage, Out of Warranty, Apple Service Centre

AppleCare+ $189
Excess Charge
Total AppleCare+ & Repair Excess Fee
200
28
$417.90 x 28 =

$11,701

$189 x200 = $37,800
$149 x28 = $4,172

$41,972
So, it all comes down to the number of repairs that a business typically has each year and whether those repairs are mostly screen replacements or more serious repairs.
Over to you to work it out.
Related Blogs
| | |
| --- | --- |
| | VoicePlus solves enterprise mobility problems. We are a managed mobility service provider delivering cost savings and enabling agile, productive teams to Australian business. |