Don't risk losing valuable data, important memories and personal collections of music or files. Before updating to any new version of iOS, you should always back up your device to iTunes or iCloud as a safety precaution.

Troubles with iOS10.3
So Apple released its latest update to iOS yesterday and, as predicted, there were a few teething problems.
To be fair, Apple did signal the significant changes to its file storage system, and warned users to back up before installling in case there was a 'glitch' in moving files across to the new system.
But, going by web feedback, some users didn't do that.
Also, going by web feedback, the issues with iOS10.3 were wider than the file storage system.
Customers are reporting a range of issues including battery drain, issues with Bluetooth and Wi-Fi, lag, random reboots, and issues with third-party apps.
Why back up?
Backing up means saving a copy of everything on your device to either iCloud or iTunes.
The purpose of this is to have a 'back up' if the new iOS upgrade causes problems. You can then revert to the previous backed-up copy of your phone.
How to back up your iPhone?
There are two ways to back up your device
Back up to iCloud

Back up to iTunes
VoicePlus recommends backing up to iTunes as many customers will not have enough storage on their iCloud account to complete a full back up. Free iCloud accounts only have 5gb of storage.
Step by Step Instructions
Open iTunes application on your computer. If you don't have it installed, you can download it from here.

Connect the iPhone / iPad to the computer via a USB cable

Hit "Trust" on the iOS device and "Continue" on the computer if prompted.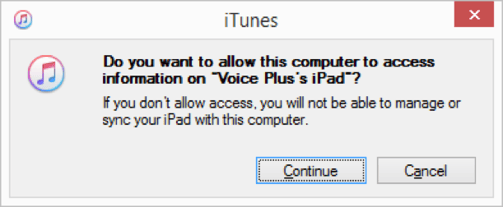 Tap on the device icon as shown below
To back up the device to your computer select "This computer" and hit "Back up Now"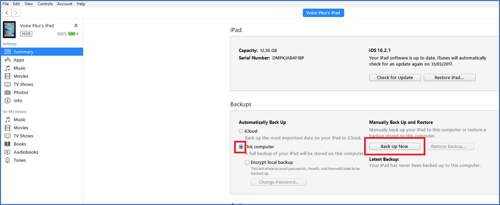 To update to the latest operating system select "Check for updates" and hit update if an update is available.
---
Related Blogs