Westpac's outgoing CIO, Dave Curran, has warned that global IT vendors need to "transform their behaviour" to be considered true business partners, saying they are too focused on sales, and "don't give Australia the focus we deserve".

Big Tech "don't give Australia the focus we deserve"
Addressing the Trans-Tasman Business Circle in Sydney last week, Dave Curran called to account the behaviour of large vendors, especially for their tendency to focus on sales rather than delivery.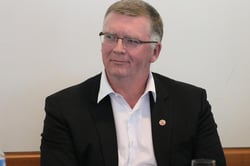 Curran's comments struck a chord, with his comments eliciting strong and visible empathy from fellow buyers while rattling many suppliers in the room.
There has been a growing general sentiment that many US-centred firms have reverted to 'ink-and-run' tactics on trophy Australian accounts rather than investing time and energy in forming longer-term strategic partnerships.
"Sometimes global tech companies don't give Australia the focus we deserve or need."

"I can turn up after a weekend and discover that 30 staff who were working with my team on Friday aren't there on a Monday, because of a decision we didn't know about made in some offshore intergalactic HQ."
Curran said the global IT companies needed to transform their behaviour:
"Salespeople are great at sales, but that's all they focus on. Big Tech companies sometimes complain that we call them suppliers rather than partners, but we do this because it's true. We are treated as customers, not rue partners and long-term collaborators."

"I'd like to see Big Tech genuinely transform and become less of a performer and more of the partner they claim they want to be; responding to our aspirations, becoming more flexible and aligning more closely to our strategic goals."

Australia has "fallen well behind"
Curran also had words of warning for Australia's business leaders, regulators, government and educators.
"We have fallen well behind where we need to be as a nation. Even though I am an eternal optimist, I still worry about how Australia will fare in this new tech-driven world.

"Australia's economic prosperity is critically dependent on having a world standard tech capability that informs everything that we do – from mining to agriculture, retail to manufacturing, finance to media, architecture to entertainment.
He said all stakeholders in Australia's technology ecosystem needed to coordinate their efforts much better to realise Australia's national opportunity.
"In my five years at Westpac we've spent over $10 billion on technology… The problem I see is that the players in the ecosystem are often out of step with each other.

"We are like a bunch of diverse people at a dance. But each dancer has a different tune in their head and moves to their own rhythm.

"It's not enough for everyone to do their own dance well. Each participant must contribute to the effectiveness of the overall system," Curran said.
Dave Curran announced his resignation from Westpac in August, and will finish up at the end of January 2019. His replacement will be US-based Citigroup's consumer bank CTO, Craig Bright.

Source: IT News: By Julian Bajkowski
Oct 22 2018