Gartner expects that 80% of organisations will be using at least eight of these top ten defining mobile technologies by 2020.

Gartner has divided its top 10 technologies that will define the future of mobility into three categories:
Foundational technologies, which are generally more stable than newer technologies and continue to deliver business value.
Incremental technologies, which include small, additive changes that enable organisations to extract more value out of their mobile investments and initiatives.
Transformational technologies, which have the potential to profoundly change business models and processes.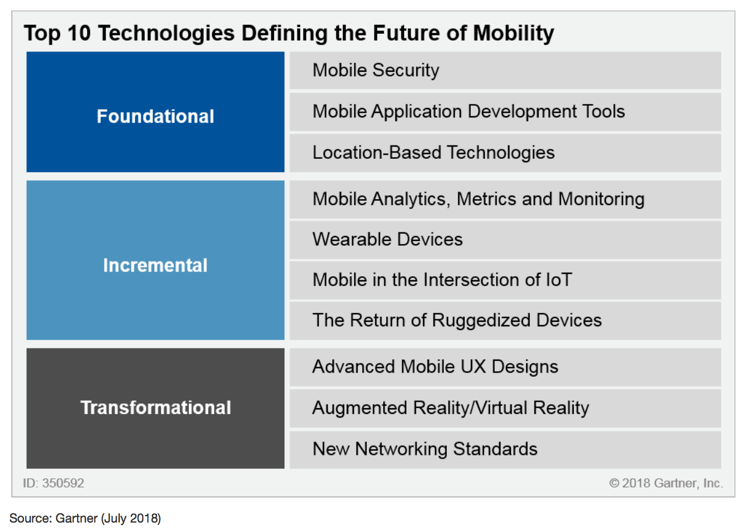 Not all organisations will be using all of these technologies all of the time, but Gartner expects that 80% of organisations will be using at least eight of these technologies by 2020.
Foundational Technologies
Foundational technologies remain very important for value delivery to the enterprise. These technologies are relatively stable — even if the vendor landscape may be volatile.
1. Mobile Security: With the number of attack vectors that threaten mobile devices and networks, security is usually top of mind when talking about mobile. Mobile security is delivered using three types of solutions: Mobile threat defence tools, Application shielding, and Unified Endpoint Management. Educating the end user is key to effective mobile security. Users must accept their responsibility for keeping information secure and avoid behavior that could compromise security of the device and/or network. Applications leaking data is also among organisations' biggest concerns. Because leakage of company data to the outside world can be costly in terms of service interruptions and damage to brand value, many organisations want to control which applications, if any, can open corporate data. Leaders should be utilising UEM suites that have the ability to push policy onto mobile devices to control how Microsoft Mobile Office handles attachments from a data loss prevention (DLP) perspective.
2. Mobile Application Development Tools: The boundary between web and mobile development has largely disappeared as development platforms meet customers' expectations of building across digital touch-points. Leaders should be adopting an appropriate multi-experience development platform (MXDP) to create a wide range of digital user experiences.
3. Location-based Technologies: The improved density and pervasiveness of Wi-Fi networks has enabled the reliable use of location-based technologies, which have become standard and are delivering value across many industries. Financial services organisations, for example, are checking to see if a customer's mobile phone is in the same location as the customer's bank card when making an ATM withdrawal, red-flagging the transaction as potentially fraudulent if the phone is in a different location. Leaders should be considering how location-based awareness could drive value for their organisation.
Incremental Technologies
As enterprise mobility enters a new phase after rapid innovation and maturity, the focus shifts to using monitoring and analytics with these technologies to optimise their use and deliver maximum business value.
1. Mobile Analytics, Metrics and Monitoring: The use of analytics to understand user behavior and to help decide on new feature functionality is common in B2C apps. This approach is growing in business-to-employee (B2E) apps as well to help organisations understand the type of experience they are delivering to users. Leaders should begin exploring how to derive value from data by conducting an inventory of the sources of mobile analytics data that exist already in the organisation.
2. Wearable Devices: Gartner expects wearables to have a 24% compound annual growth rate (CAGR) in revenue through 2020, reaching a total market value of $62 billion. Wearable technologies include devices such as smartwatches, head-mounted displays (HMDs) and "smart" clothing, and form the basis of hands-free workflows. The fastest-growing segments (although from a low starting level) will be smart garments and Head-Mounted Devices (HMDs). By 2020, HMDs will be the biggest category in terms of revenue, followed closely by smartwatches, and will make up two-thirds of the wearables market by value. Fitness-related wearables will account for $13.7 billion or 22% of revenue of the market's value. Leaders should assess the impact of leveraging wearables for select use cases by collaborating with line of business (LOB) leaders to identify areas where pilots can be run.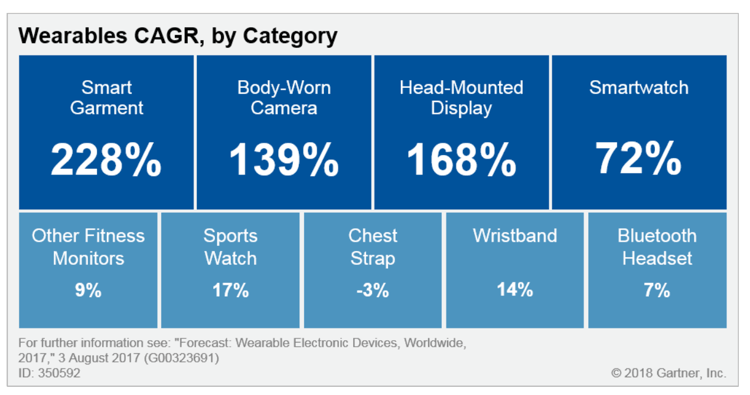 3. Integrating Mobile and IoT: Gartner is seeing traditional mobile application development platforms with IoT protocols embedded. As a result, using a smartphone or tablet to set up an IoT device is becoming more common. The mobile device can then configure the IoT device, collect information from it and make adjustments to it. Leaders should showcase the value of mobile devices in the IoT by identifying areas where access to sensor data from mobile devices can add business benefit.
4. The return of ruggedised devices: Ruggedised devices offer advantages beyond the ability to drop them on the "floor, including: stability in hardware/OS/drivers/connectors, screen that is readable in bright sunlight and can be operated with gloves, ability to operate in hazardous environments where consumer technology is banned, operational in wide temperature ranges and in dusty and damp environments, long battery life and long product life cycles for the device and accessories. The price differential between ruggedised devices and commercial-off-the-shelf (COTS) devices is shrinking and the lifecycle of a ruggedised device is double that of COTS devices. Leaders should determine the value of ruggedised versus COTS devices by evaluating all aspects of how ruggedised equipment can impact frontline worker productivity and ensuring that all costs are taken into consideration.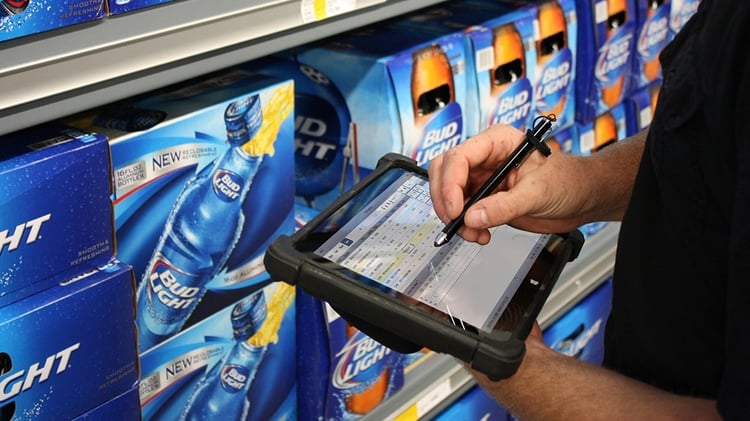 Transformational Technologies
These technologies have the potential to change dramatically the way organisations use mobile, as well as the impact of mobile on business models and the execution of business processes. The technologies all exist today, but at varying degrees of maturity. Sometimes, the maturity may differ by the use case.
1. Advanced Mobile User Experience Designs: The move to the "post-app" era is giving rise to alternate technologies. These technologies include virtual personal assistants (VPA), virtual customer assistants (VCA) and AI-powered bots, which deliver a more consistent customer experience. Through machine learning and artificial intelligence that enables these technologies, we are seeing the evolution in the workplace from technology-literate people to people-literate technology.
2. Augmented Reality/Virtual Reality: Mobile devices will be the window through which users view the world of augmented reality (AR) and virtual reality (VR). AR refers to digital content overlaid on the real world. VR creates a digital environment that shuts out the real world. AR, enabled by mobile, see-through cameras that connect work and visual systems, is currently the best match of the real and virtual worlds. But we expect it to merge with VR by 2020 to offer mixed reality (MR). In the 2020 time frame, we expect to see a lot of MR content. Currently, consumer adoption of VR outpaces that of the enterprise, but these technologies also represent real business value in an enterprise context.
3. New Networking Standards for IoT: Considering the next trillion devices that will come in the form of the IoT, many new IoT networks aren't yet standardised, and tension exists between long-lived products and short-lived technologies. Not all IoT initiatives use mobile data services from telcos to communicate. Many IoT initiatives use, exclusively or partly, fixed, satellite or short-range wireless, in addition to private low-power WAN (LPWAN) over medium ranges (5 km to 15 km). Leaders should protect their organisation from the expense and performance challenges of technology that does not win the backing of vendors and service providers by choosing recognised standards, unless there is a documented business benefit in going with something more proprietary.
Technologies That Did Not Make the List
The following technologies are important and worth factoring into a mobile strategy, but giving them undue consideration should be avoided at this time says Gartner.
5G devices and the first volume rollouts are not expected to become mainstream before 2020 or beyond. Most enterprise applications work fine on 3G networks with HSPA+.
Uptake of smartwatches in the enterprise has been disappointing. Travel and transportation companies are doing some interesting things around smartwatches, but otherwise the technology has not taken off.
Mobile back end as a service (mBaaS) solutions are just a small part of mobile back-end services and should be considered in the light of the entire MXDP space.
Enterprise mobile management (EMM) has become a mature market with a relatively level playing field. Many organisations already have made the investment. If you don't already have an EMM product, you need one. During 2018, Gartner is changing the name of the market from EMM to Unified Endpoint Management (UEM) to reflect that PCs and Macs can also be managed with these suites.
The hardware advances in smartphones and tablets have been reduced to incremental changes in the performance of CPU, memory and camera. The designs are becoming increasingly similar.
This blog is extracted from the Gartner Research Note: The Top Ten Technologies that are Defining the Future of Mobility, by Leif-Olof Wallin, published 17 July 2018.
---
Related Blogs