What could entice you to add another credit card to your wallet - specifically an Apple credit card? Here's five reasons to consider it - when or if it ever becomes available in Australia.

"Most significant change to the credit card in 50 years" says Cook
Apple has partnered with global investment bank Goldman Sachs and Mastercard to bring its Apple Card to life.
At the launch, Apple CEO Tim Cook described it as "the most significant change to the credit card in 50 years."

"There are some things about the credit card experience that could be so much better. The card will decipher statements into something that's easier for people to read and understand and will automatically group purchases into categories and help customers track and develop insight into their spending habits."
Don't hold your breath Australia
But before you get too carried away with the Apple 'we will change the world" hype there is one massive downer with the Apple card ... there has been no mention of a release outside of the US.
Unfortunately, Apple has only confirmed Apple Card will be available to eligible customers in the US with a release date sometime mid year.
Nevertheless, there is some good news. Goldman Sachs has already said they are "exploring" international markets. As Apple Pay is already available in 99% of merchants around Australia, we would likely be a potentially be a suitable market. There is also around 70 banks, building societies and credit unions in Australia who accept Apple Pay, and the CBA announced in January this year 2019 that it too would be joining in. Westpac and NAB are the only leading institutions not already onboard.
Here's five reasons to want the Apple Card
Daily Cash for cash back rewards.

Apple Card will offer cash back payments on every purchase made on the card. Purchases made using Apple Pay will earn 2% of the value of the purchase. Purchases from Apple earn 3%, while purchases with the physical card get 1%. These cash back payments do not have to be claimed or redeemed. They are paid daily into your card. Apple Card

won't, however, let you earn frequent flyer points

or integrate with other rewards schemes.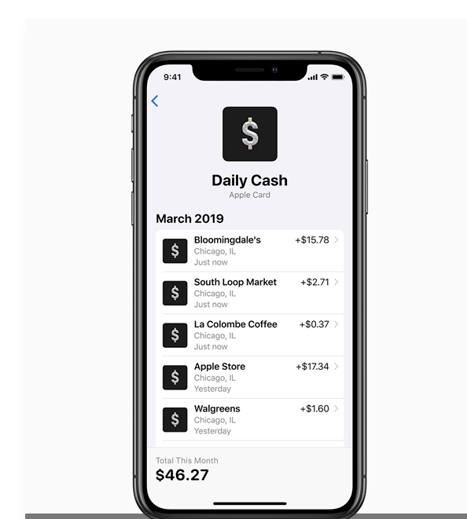 No annual fee, foreign currency conversion fees or late fees.

Apple is heavily promoting the "no-fees" aspect of the card. This will be attractive especially for those who need to make overseas payments or purchases. Important point: while there are no late fees as such, you will be charged additional interest if you don't make payments on time. Apple claims its will be some of the lowest interest rates in the market when it launches.

To help customers make informed choices, Apple Card also shows a range of payment options and calculates the interest cost on different payment amounts in real time (see image below). As a way to pay less interest, Apple Card will also suggest paying a bit more every month and offers the flexibility to schedule more frequent payments.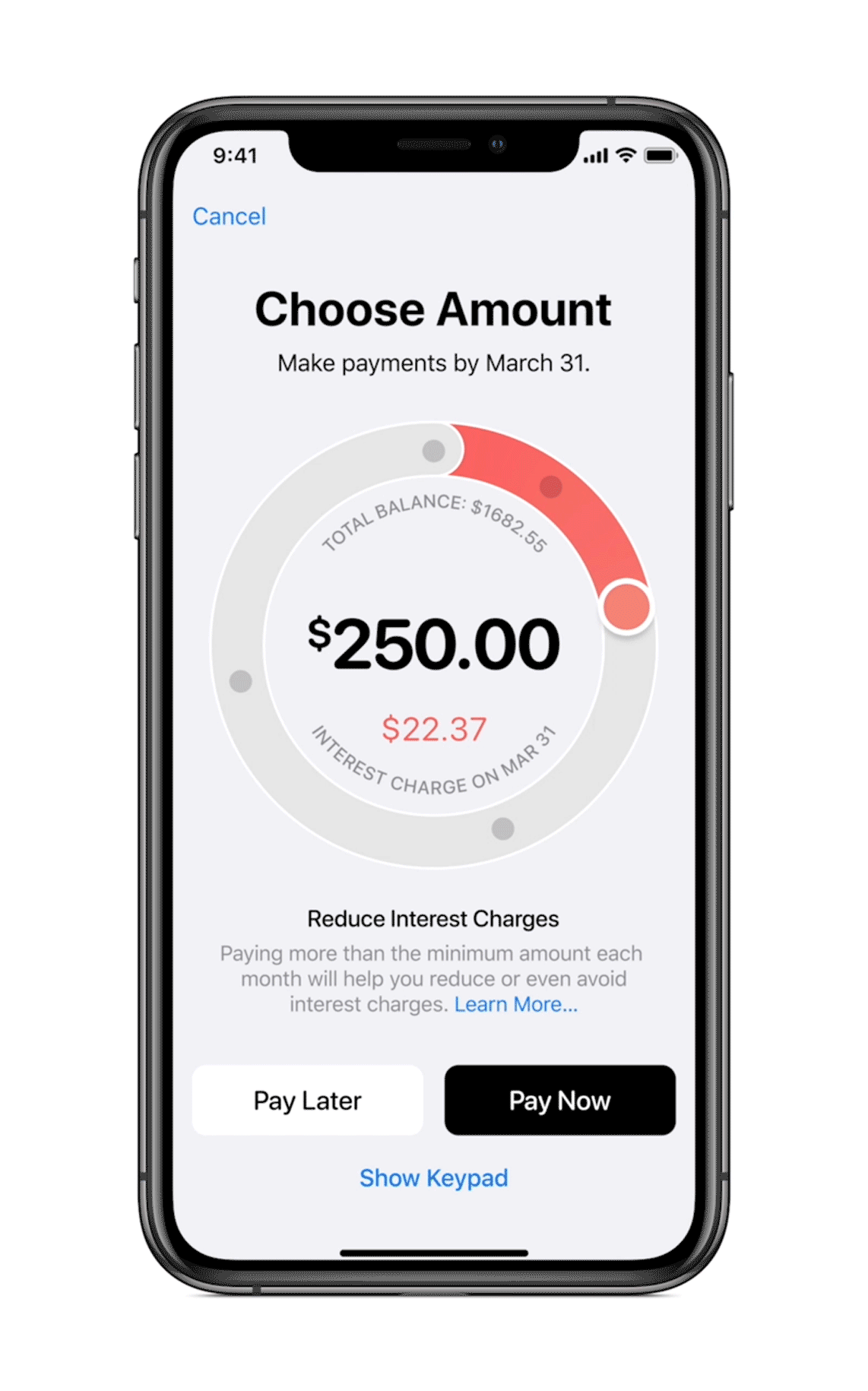 Spending tracker.

The Apple Wallet will automatically categorise all your spending and show you where the spending happened using integration with Apple Maps.

Apple Card uses machine learning and Apple Maps to clearly label transactions with merchant names and locations. Purchases are automatically totalled and organised by colour-coded categories such as Food and Drinks, Shopping and Entertainment. To help customers better understand their spending, Apple Card provides weekly and monthly spending summaries.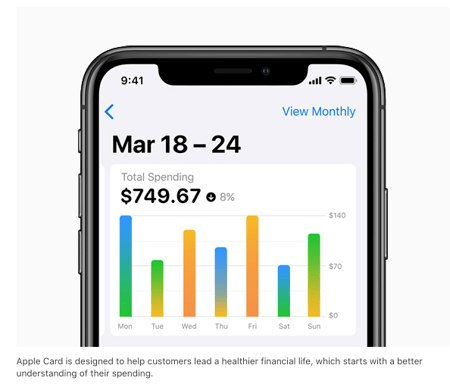 Security features. Credit card numbers will be issued per device and will need to be authorised with Touch ID or Face ID. Apple has stated that it will not be able to see what you buy or where you buy it.

A unique card number is created on iPhone for Apple Card and stored safely in the device's Secure Element, a special security chip used by Apple Pay. Every purchase is secure because it is authorised with Face ID or Touch ID and a one-time unique dynamic security code. The unique security and privacy architecture created for Apple Card means Apple doesn't know where a customer shopped, what they bought or how much they paid.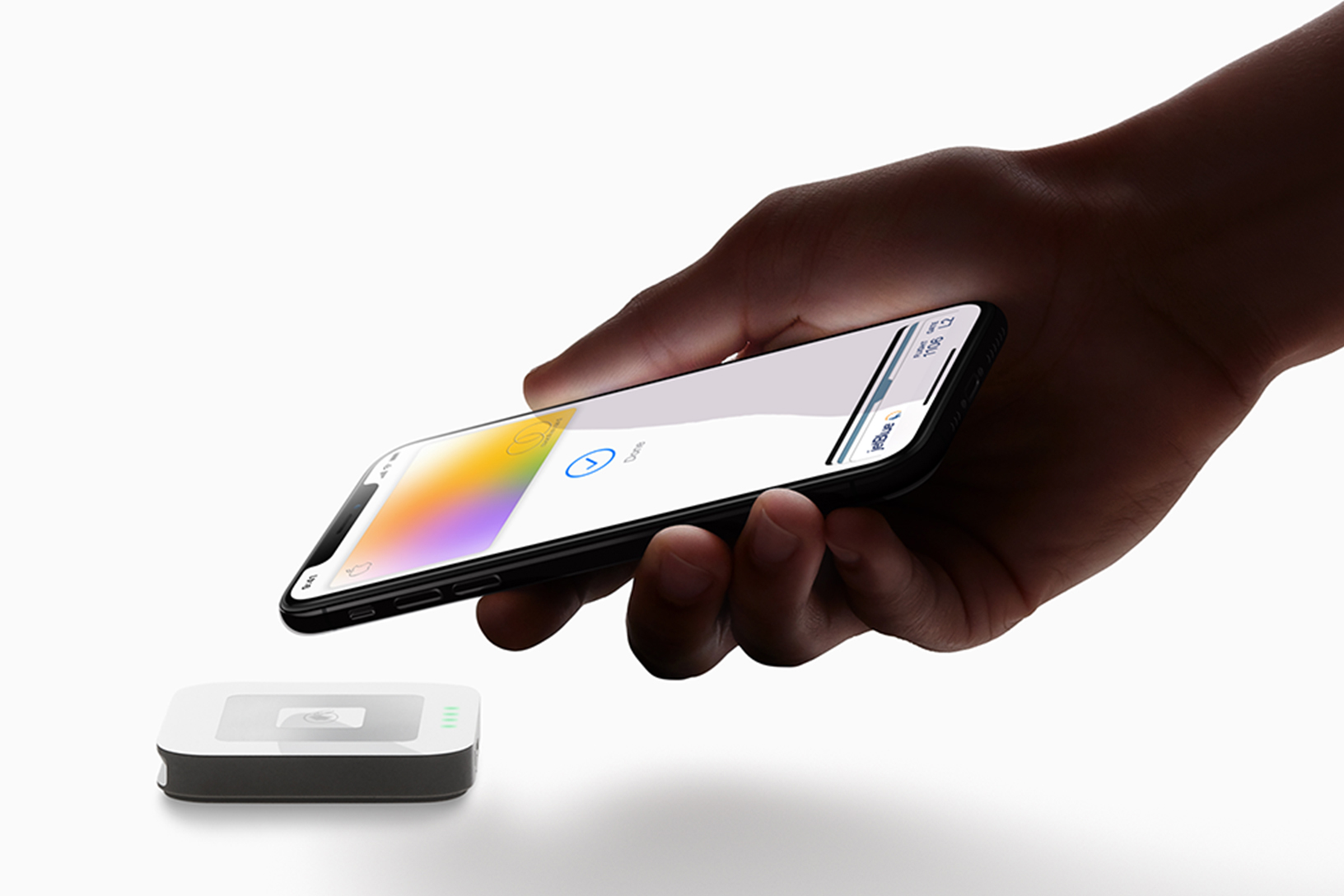 Integrated with Apple Pay.

Apple Card works via the existing Wallet app on iPhones that lets you use Apple Pay. You apply for the card through the Wallet app and transactions show up in real time on your phone. Cardholders will be supplied with a physical card (for use with retailers that don't support Apple Pay). Unusually, it won't feature either a credit card number or CVV, which is a move designed to improve security. If you need to look those up to enter online, you'll find them stored in the Wallet app on your iPhone.
Why is Apple entering the financial services space?
The Apple card is an interesting move and part of an ongoing strategy to lock iPhone users into the Apple eco-system. This is not a card for everyone. It's so heavily built into Apple's hardware and software that there's absolutely no point for Android users to even look at it.
Apple will also be hoping it drives more iPhone owners in the US towards using Apple Pay and to make purchases within its iOS ecosystem such as its App Store, micro payments in games, and peer-to-peer payments with Apple Cash, a feature only available in the US.
A Forrester survey commissioned by JP Morgan in 2017 found that only 16 per cent of U.S. consumers had used a digital wallet, and only 36 per cent of merchants accepted digital wallet payments.
Tech Analysts underwhelmed
Meanwhile tech analysts have been unimpressed by Apple Card.
Rivka Gewirtz Little, a global research director at analyst firm IDC who specialises in payments told The Verge:
"I think the strange optic here is that credit cards are not necessarily innovation in payments, even with better rates and loyalty,"

"So, to see a big tech firm, which hangs its hat on innovation, go such a traditional route — that's what I think is a bit odd here. I'd like to see Apple get more innovative in transforming the way we pay."