As the corporate mobility market matures, Australian enterprises are looking to expand from managed smartphones to managed endpoints.

Managed mobility expands to managed endpoints
Australian enterprises are fast outgrowing the traditional definition of managed mobility and are expecting their Managed Mobility platform to expand to manage other endpoints including laptops, hand-held scanners, vending machines, alarms, security cameras, routers and wearables; or any device which connects to the network/internet.
Mobile, endpoints and wearables converge
Terminology, like the technology it describes, is constantly evolving. It was not so long ago that mobility meant devices which used a SIM card to connect to the internet. Today, however, mobility goes way beyond the SIM.
Global research consultancy, Gartner, first coined the term managed mobility service in 2011 and limited the definition to smartphones, tablets and ruggedised field force devices with integrated cellular and/or wireless connectivity."
In 2018, Gartner is expanding the concept of mobility to include endpoints and wearables, when it discusses strategies for the future.
"Endpoint Computing is exploding" says Gartner
Endpoint computing is exploding says Gartner analysts Michael A. Silver and Chris Silva in their paper, Mobile, Endpoint and Wearable Computing Strategies Primer for 2018, published on 1 February.
"Endpoint computing is exploding, changing faster than ever on multiple fronts.

"New devices, including IoT, wearables and cloud technologies, can provide organisations with new business opportunities for knowledge workers, as well as frontline workers.

"IT needs to select, exploit and manage these for maximum benefit."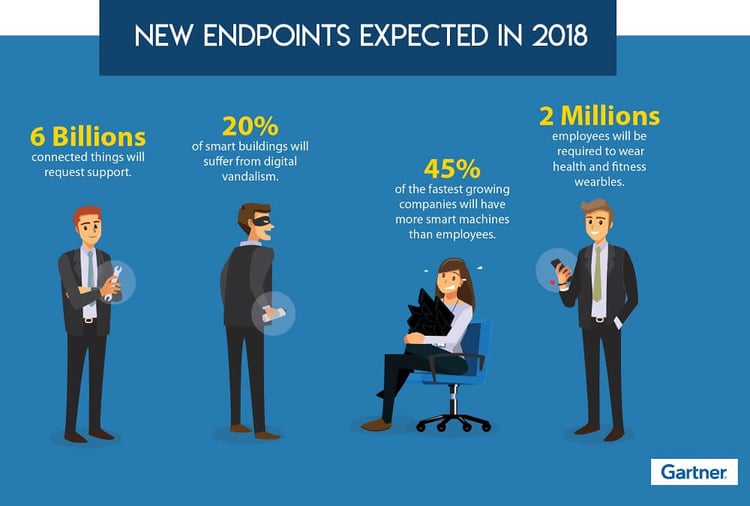 Unified Endpoint Management emerging
According to Gartner, the next few years will see a convergence of management environments as the number of endpoints, and the breadth of their use in the workplace, grows.
"Most organisations have some sort of mobile device management (MDM) or enterprise mobility management (EMM) product. Many have more than one. Most organisations have traditional PC configuration management tools, and most are not fully utilising any of the tools they have.

"The next few years will see device-specific management products converge into Unified Endpoint Management (UEM) that can manage a broad range of devices.

"Organisations must also address the challenge of taking greater advantage of the management products they have to get more benefits and improve ROI."
Australian enterprises already on the endpoint computing path
The concept of managed endpoints and the convergence of endpoint computing strategies, identified by Gartner, are already being realised by leading Australian enterprises, says VoicePlus managing director, Michael Giffney.
"Customers have begun expanding the endpoints that are being managed by VoicePlus Atrium Managed Mobility SaaS platform. We have seen an expansion from the traditional mobile phones and tablets, to the addition of laptops, desktops, fixed line services, mobile routers, hand-held scanners and even IoT timekeeping devices.

"There is a realisation that all endpoints - not just phones and tablets - have the same management requirements. They all need accountable procurement, lifecycle management, inventory control, cost optimisation and financial management - and they all need to be secured, and unified for end user productivity.

"Our enterprise customers have recently started creating new positions with the title End User Computing Manager. This is a recognition that when you get multiple endpoints all connected to one end user, the focus has to shift from being device-centric to being person-centric. All the endpoints need to be unified for the employee to be productive."
---
Related Blogs