It looks like Facebook and behaves like Facebook, but it's actually Workplace. Facebook has come off the beach and into the boardroom with the launch of its subscription-based business networking platform.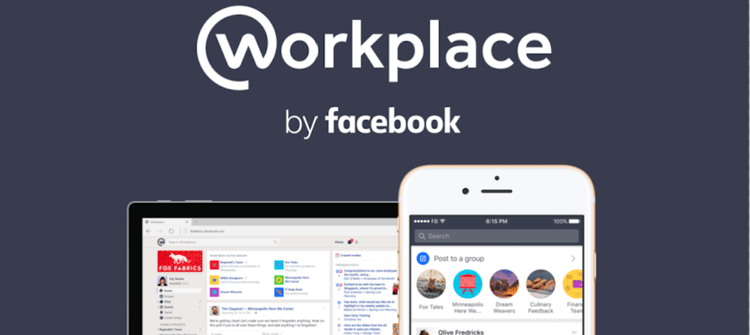 Watch out LinkedIn, Slack, GoToMeeting, Sharepoint, Yammer - in fact all other collaborative software vendors.
Facebook Workplace is making a play for market share and it has the advantage of a massively popular social networking platform behind it, providing it with a benchmark for what works.
How does Workplace work?
We all know how Facebook works, right? Workplace pretty much works the same way only instead of friends you connect with colleagues in your own company.
Connect all the people in your company and turn ideas into action - that's the Facebook Workplace sales pitch.
All the employees in a company become members of Workplace and can use the tool to communicate, collaborate and access information. Just like Facebook you can:
Follow your personalised News Feed to keep up-to-date with latest innovations and cross-function or remote location progress, featuring Reactions, Search and Trending posts
Use Groups to host a virtual brainstorm or collaborate on a project in real time
Use Work Chat to message instantly when you are on the move or to communicate with a colleague across the world in real time including video calling
Use Facebook Live to follow along with the CEO's presentation or 'attend' a company event
Coming soon is Multi-Company Groups which sounds an awful lot a replica of LinkedIn groups.
In Australia, nbn were chosen to trial Workplace. Eecutive General Manager Corporate Affairs, Karina Keisler, says:
"Workplace has given over 6,000 of our people a greater voice. Regardless of geography, seniority or role, we now have equal access to each other, our insights and stories."
What does Workplace replace?
Workplace is designed to eliminate or drastically reduce the need for internal collaboration tools such as the intranet, telephony systems, video conferencing and distribution list.
According to Facebook, many companies find Workplace helps them do more than just simplify communications — it inspires all levels of the company to embrace digital and mobile.
"At Facebook, we've had an internal version of our app to help run our company for many years. We've seen that just as Facebook keeps you connected to friends and family, it can do the same with coworkers.
Will Workplace help or hinder employee productivity?

The jury is out on this big question.
The Pro's
Making the argument for Workplace promoting productivity is Hootsuite CEO, Ryan Holmes:
"We've never had a policy barring Facebook use while in the office, and that's not just because we're a social media company. Social media is the watercooler of the 21st century. It's already one of the most important conduits for information—including business information.
At Hootsuite, Holmes reports that Workplace has proved to be "a huge time saver." As with other group messaging platforms, "instead of firing off dozens of group emails, you can have a much more natural conversation by posting and responding on a Facebook group," Holmes explains. "There's also the visibility factor. By subscribing to different groups, you get insight into what's going on across departments."
Millennials will comprise half of all workers by 2020. This demographic raised on a diet of Facebook and social media networking and Holmes reports his young employees embraced Workplace enthusiastically.
"If you can use Facebook, you can use Facebook Workplace," Holmes says, since the two are designed to look similar to one another. "The concept of the newsfeed and of groups is already familiar to people," and the same is true of the platform's overall user interface and functionality. That's eliminated the need for an onboarding process," says Holmes.

THE CON'S
"Using Facebook Workplace is not working. It's talking about work."
That's the main gist of the contrary argument put by Cal Newport, a computer science professor and author of Deep Work: Rules for Focused Success in a Distracted World.
"Over the past decade or so, knowledge workers have told themselves the story that the main thing obstructing them from producing more value is that they can't get access to enough information fast enough."
This is a "fairy tale," Newport believes. With each successive communication tool - email, collaboration software and now Facebook Workplace - employers are trying "for more connectivity, more information, more speed," says Newport. But while productivity may be aided by optimal communication - up to a point - the real key to productivity is honing "rare and valuable skills and applying them to information to produce rare and valuable output." Hence the 'deep work' of his book title.
Far from being a productivity tool, Newport believes Workplace will be a distraction hindering productivity.
It's unwise, he says, to "essentially hook everyone, regardless of their role, onto one big party line - whether that's email, Slack, or something like Facebook Workplace - and then have them just figure things out on the fly as an ongoing, unstructured, ceaseless conversation." His 'deep work' principle champions deliberative decision making rather than the reactive responses encouraged by real-time communication tools.
What will Workplace cost?
Workplace is free for the first three months, and then Facebook will charge a range of monthly prices, per active user: $3 each for up to 1,000 users, $2 for up to 10,000 users and $1 each for enterprises with more than 10,000 users.
Nonprofit organisations and academic institutions will get Workplace at no cost, according to Facebook.
Continued after eBook offer...

Who is Workplace going to shake up?
In 2015, the top 10 collaboration software vendors accounted for nearly 69% of the global Collaboration applications market which grew 5% to approach nearly $7.1 billion in license, maintenance and subscription revenues. Through 2020 the value of the market is predicted to grow at a compound of 3.4%pa to $8.4 billion.
Microsoft led the pack with 20% market share with $1.4 billion in Collaboration product revenues but a shake up in its portfolio is expected. Despite an installed base of over 200 million users, the future of Microsoft SharePoint or even Yammer is uncertain given the purchase of the massively popular social network LinkedIn, which could reshape the way collaboration is done in the enterprise.
Cisco Systems was No. 2 achieving 11% share. Cisco is aiming to breathe new life into its collaboration strategy with Spark, which rolls videoconferencing, messaging and phone services all into one.
Citrix was the third at 10%. In July 2016, LogMeIn merged with Citrix's GoTo business in an $1.8-billion deal, marrying collaboration tools like join.me with GoToMeeting.
Oracle and IBM were fourth and fifth place with 7% and 5%, respectively, following by Box Inc. 4%, DropBox 3%, and Google 3%