Broadband data downloads increased by 38.6% last year, continuing a run of significant annual increases since 2014, but what does this mean for business in 2018?

Subscribers static, downloads increasing
According the Australian Bureau of Statistics, the growth in the number of broadband internet subscribers has remained stable during 2017 but the growth in the volume of data downloaded has continued to increase.
There were a total of 14.2 million internet subscribers in Australia at the end of December 2017, an increase of 3.4% over the previous six months.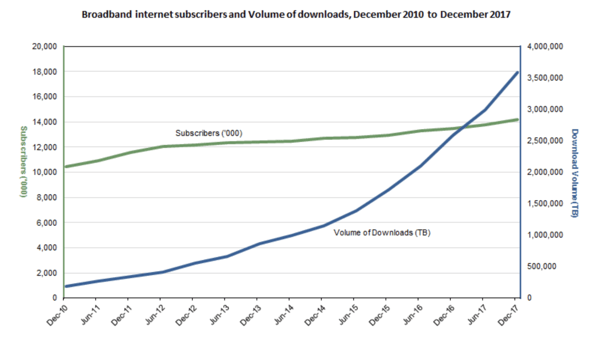 With increasing numbers of devices at home, and the rise of unlimited data plans, no one thinks twice about downloading anything they want to.
The ABS did not break the statistics down into consumer versus business but how could this changed consumer behaviour translate into the work environment?
What is the impact on business?
This consumer behaviour, if allowed to flow into the work environment, has the potential to
compromise bandwidth

compromise internet access

increase costs
1. Compromised Bandwidth and Access
WAN and Internet bandwidth within a corporate network is carefully considered to ensure it fits the business needs.
Capacity planning is performed to allow all company services to run at an optimal speed, and is the business imperative around purchasing decisions.
Any additional WAN and Internet traffic has the potential to slow all other services and if bandwidth is throttled enough can even completely halt the service.
Solution
Implementing, policing and shaping an internal firewall is the answer to intelligently block and manage what users can access to download without over-subscribing the link.
Firewalls have the ability to directly block ports that support popular bandwidth hoggers such as Netflix, Torrenting, Youtube and Facebook, and police non-critical Internet traffic.
Firewalls can locate the specific devices at fault and can stop them from accessing the Internet all together.
Upgrading the I
nternet connection can also be used as a last resort in order to resolve bandwidth and downloading issues if all other problematic sources have been blocked.
2. Cost Escalation
Cheap, unlimited data from home internet providers, can create an employee attitude that data is disposable.
However most corporate internet links are being charged per MB of usage. If employees replicate their download behaviour at work it won't take long before increased data charges are incurred, or worse, the Internet link is saturated.
Case Study
A VoicePlus customer began experiencing abnormally large data downloads after business hours. Using data monitoring through the Jasper platform, VoicePlus was able to identify employees using work mobile handsets to stream personal content. The customer's mobile Internet is routed through a private APN/VPN causing all traffic to be routed through the corporate internet connection. This resulted in higher mobile charges, and also additional corporate internet usage charges.
Solution
A MDM platform - such as VMWare AirWatch or Microsoft Intune - can identify employees who are downloading excessive data.
The MDM solution has the ability to impose strict compliance policies which can remove access or suspend features of a corporate device when a certain data limit has been reached. These activities can be supplemented with various warnings sent to the users and administrator via SMS, email and notifications.
The AirWatch MDM platform can be linked with specific Telstra plans and automatically send usage alerts to employees, and complete actions to manage usage parameters.
VoicePlus has expertise in AirWatch and Microsoft Intune MDM platform design, configuration, integration, management and support.
Source: Australian Bureau of Statistics released its Internet Activity Survey (IAS) published April 2018
---
Related Blogs