VoicePlus has been named as a Finalist in the CCA Supplier of the Year program.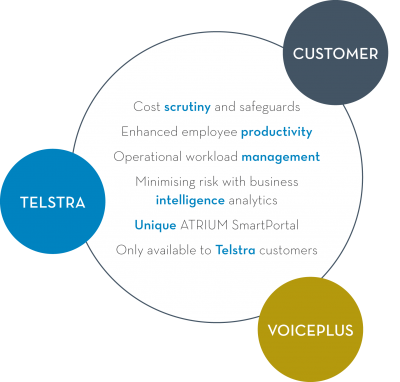 The winner will be announced on Thursday 11 September 2014.
VoicePlus is proud to be a Telstra Enterprise Partner and has worked alongside the Telstra account team over the past six years to develop a unique customised solution for CCA.
The solution - known as Atrium+ - has delivered outstanding value, innovation and customer service in 2014.
The key elements of the Atrium+ Solution are:
Atrium SmartPortal
Atrium Lifecycle
Atrium Control
Atrium SmartPortal
The keystone of the Atrium Solution is the Atrium SmartPortal. This portal is the delivery platform for an integrated and secure mobile management environment.
This state-of-the-art technology eliminates human error, protects the integrity of information, and allows savings strategies to be accurately applied.
integrated with CCA's corporate intranet providing seamless Single-Sign-On and 24/7 employee access
Integrated with CCA's HR interface to securely preload accurate end user information
Allocates costs in 'real time' to designated cost centres
Obtains 'approval' of all orders from up to three levels of management hierarchy promoting corporate compliance and minimising risk
Full tracking of all orders
Atrium Lifecycle
No more devices sitting in desks gathering dust while contracted services tick over at a monthly fee.

Atrium Lifecycle systemises the retrieval and redeployment of devices and services from employees departing the business.

Atrium Lifecycle also manages the App licensing program ensuring that App registration is accurately applied, minimising the risk of hefty reconciliation fees.
Atrium Control
Atrium Control encompasses three main programs:
Telstra Billing Transparency

Business Intelligence Reporting

SmartFleet Registry
Billing Transparency
Bill transparency promotes employee awareness of and responsibility for mobile activity and costs. Individual employees are able to view their monthly Telstra bills on the Atrium SmartPortal.
Managers are able to view detailed Team bills making it easy to group, compare and analyse employee usage, and compare actual spend to budget.
Non-compliance with corporate policy and unauthorised expenditure is clearly identified.
Business Intelligence Reporting
If it can be measured, then it can be managed.
With Atrium Control business intelligence reporting has never been so accurate or immediate.
Atrium Control delivers a range of customised management benchmarking reports, trend analysis, and detailed spending and saving analysis.
SmartFleet Registry
The SmartFleeet Registry is the base information upon which all decision-making and cost control strategies are applied.
The SmartFleet Registry is a live database of equipment, plans, end-user details, and cost centre allocations.
It is updated in real time as activity occurs on the Atrium SmartPortal.
Aligned with Telstra network records for contract management tasks, it facilitates quick and accurate changes to services.
For more information about how Atrium+ could work for your business: