C-suite executives' believe their own smartphones are the biggest security risk to the business, according to a new survey from wi-fi hotspot provider, iPASS.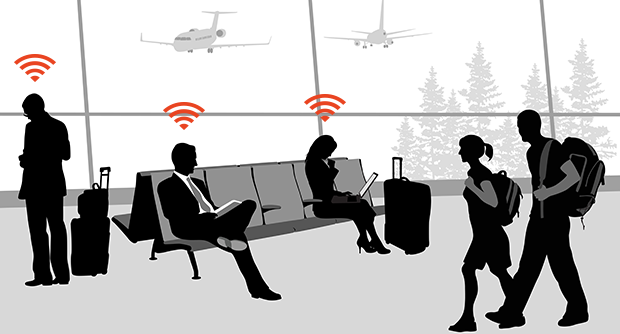 40% of c-level professionals believe they are the biggest risk to mobile security in their business.
Contributing factors include the fact that senior employees have privileged access to highly sensitive and/or valuable corporate data and systems. They also travel regularly for business and tend to be more active across multiple mobile devices.
Because of the "always on" mentality of the high-level or c-suite professional, survey respondents said the biggest threats come when executives are outside the office, tapping into public WiFi locations in coffee shops, hotels, and airports.
Enterprises ban use of public Wi-Fi
Many enterprises are resorting to banning the use of public Wi-Fi hotspots entirely.
68 percent of organisations surveyed currently ban the use of public Wi-Fi hotspots. Almost a third (31 percent) ban their use at all times (up from 22 percent in 2016), with a further 37 percent banning their use sometimes.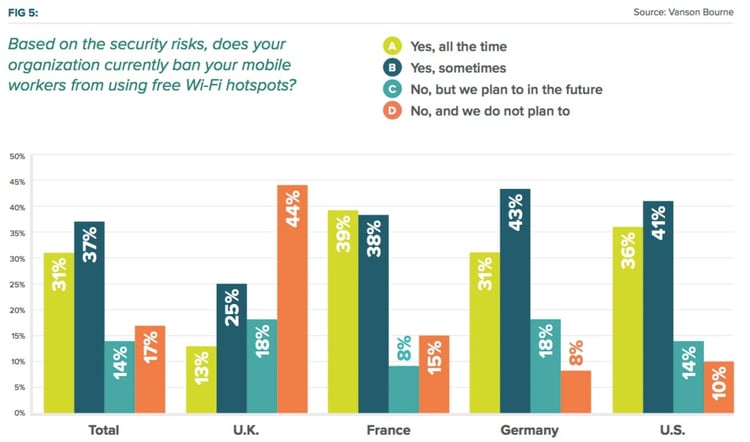 Coffee shops most dangerous place
Coffee shops are regarded as the most dangerous public Wi-Fi venue, followed by airports and hotels.
Wherever there is an unsecured public Wi-Fi network, there is the threat of attack. However, coffee shops are seen as the most dangerous public Wi-Fi venue of all. Perhaps, this is due to their popularity and convenience, as 78 % of respondents chose coffee shops as one of their top three most dangerous locations. In total, 42% of respondents ranked coffee shops as the number one location. Airports came in second. And exhibition centers are considered the least concerning venues.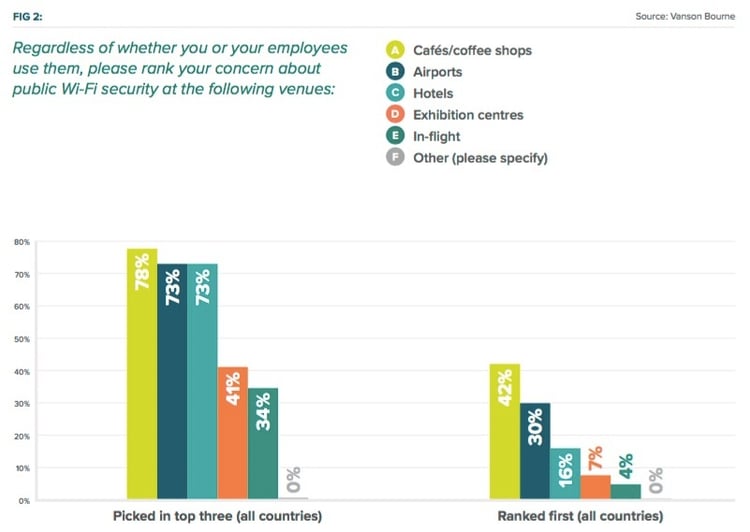 Smartphone hacks reach record high
Meanwhile smartphone hacks reached record highs in 2016. A Nokia Threat Intelligence Report, released in March 2017, detailed how smartphones were not only hacked or scammed at a record rate in 2016, but lead the way in terms of devices that suffered vulnerabilities.
Smartphones account for 85% of mobile infections, making them the single largest threat vector in comparison to other devices such as laptops, tablets, and wearables.
In a Fortune report from 2016, a list of high-profile company CEOs were named as those who were breached in some form, including Facebook CEO Mark Zuckerberg, Google CEO Sundar Pichai, and Amazon CTO Werner Vogels, among many others.
Download the Full Report by clicking on the image above.
iPass surveyed 500 CIOs and senior IT decision makers from the U.S., U.K., Germany
and France. The iPass Mobile Security Report 2017 overviews how organizations are dealing with the trade-of between enforcing security policies and enabling a mobile workforce.
The research was carried out during March 2017 and was conducted by independent research company Vanson Bourne.
---
Related Blogs