Transparent device and billing analytics deliver quantifiable mobility cost savings.
Australian enterprise 'loses' $100,000 worth of laptops over 24 months

85% of telco carrier invoices are paid without any form of audit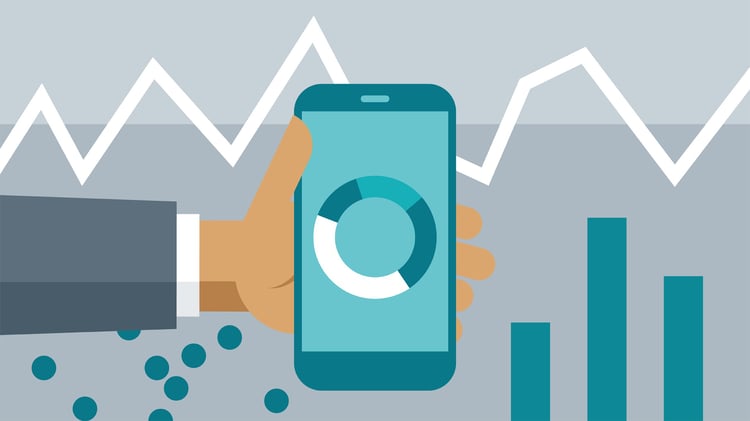 Managed Mobility Service (MMS) makes asset inventory transparent
It is difficult to find quantified data about the number of mobile endpoint devices which 'go missing' from businesses. Not surprisingly, most businesses prefer not to share that information - that's if they actually know the answer!
However we know that it happens all the time, and far more often than anyone would care to admit. In fact we are aware of an Australian enterprise who recently wrote off $100,000 worth of laptops over 24 months. That's about 50-75 laptops or around 3 per month.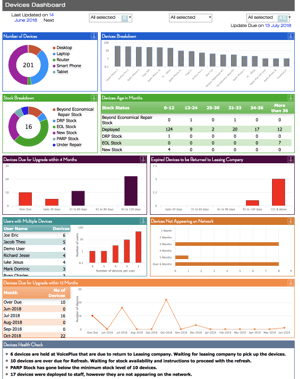 Visibility of missing devices
It also allows:
an overview of asset expenditure
number and type of device(s) in the corporate fleet
usage by device type
device upgrade and renewal programs
leases and licences
An online Device Dashboard (right) provides real time reporting data.
The device dashboard works alongside the Asset Register which is a live database of devices with asset, ownership, and expenditure details, which is updated in real time as employees make changes to ownership or associated plans.

Billing Dashboard delivers cost optimisation 'at a glance'
"Up to 85% of company telecom bills are paid without any audit being undertaken."

"A staggering 80% of telecom bills include hidden charges or incorrect billing, invariably at the expense of the customer."
It's shocking… but these are the findings of two of the most respected global industry research organisations, Gartner and Aberdeen Group respectively.
Telecom expense management is a key feature of VoicePlus's Atrium Managed Mobility Service (MMS). Atrium MMS guarantees to reduce corporate mobility costs - on average by 15% - in the first 12 months.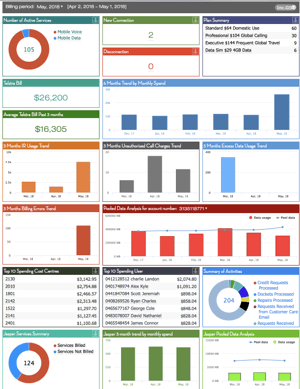 Launching a new billing analytics dashboard this month with foundation customer, Coca-Cola Amatil - Atrium Managed Mobility delivers billing analytics at a high level, with a drill-down feature to retrieve detailed data.
Atrium MMS is a self-service SaaS product developed by VoicePlus in collaboration with Coca-Cola Amatil and allows every employee a view of their own personal monthly billing expenditure.
In addition the new billing dashboard, visible only to selected personnel, allows online viewing of
total monthly bill expenditure
detailed expenditure reporting
average expenditure trending
spend forecasting
pooled data usage by account
unauthorised and off-plan charges
top spending services
all active telco services segmented by type
all plans segmented by type
Under each high level visual, click for next level detail.
Foundation partner, Coca-Cola Amatil, since 2013
"The customer service ethic at VoicePlus is one to aspire to. The team has a can-do attitude combined with forthcoming ideas about better ways to manage CCA's telecommunications services. This small business has punched well above its weight for CCA."

So said Barry Simpson, CIO, Global Operations IT Services, Coca-Cola when VoicePlus was awarded the IT&T Supplier of the Year award in 2014. That was the first full year of the Atrium managed mobility SaaS being deployed in the CCA business. Read the Case Study