If you didn't line up outside an Apple store last Friday to get your hands on the new iPhone X, there is a good chance that you won't have the device before Christmas.

First buyers at Apple's George Street, Sydney store. Credit: Source:AAP
Pre-order deliveries will take 4-6 weeks
Those who pre-ordered the iPhone X have the best chance of receiving it before Christmas, but it is impossible for any carrier - Telstra, Optus or Vodafone - to guarantee a timeframe as they are entirely dependent on Apple.
VoicePlus has lodged pre-orders for customers with Telstra and those customers will receive the devices first.
Even so, Telstra sent out this notification on launch day:
"Due to global stock constraints we currently don't have iPhone X in stock but I can order one for you to secure your place in the queue. As soon as we have stock, we'll send it out to you or to your preferred store. At the moment, this should take about 4-6 weeks. We'll keep you updated with weekly notifications and let you know the expected delivery date."
iPhone on a Telco plan may not be available until 2018
Most Australians buyers are expected to buy the premium iPhone X on a contract, which could prove even more challenging.
Telstra consumer group managing director, Vicki Brady, has said demand for this year's Apple smartphones together was "above previous iPhone launches" and the telco was working to secure new stock.
Optus product managing director Ben White also warned "we expect our initial iPhone X stock to sell out very quickly" as supplies were "limited".
iPhone X pre-orders at both carriers were "backordered," according to their websites, but Vodafone showed delays of six to eight weeks.
Complaints about wait times from around the world
If it's any consolation, it is not just Australians that are being hit by supply problems.
Complaints about long shipping schedules are flooding in from all corners of the globe.
Less than 10 minutes after pre-orders opened online in the US, people were being told that their iPhone X wouldn't arrive for two to three weeks (or more) — a sign that initial supplies had already run out. Days later that wait stretched out to six weeks, and has now moved back in to around 4 weeks.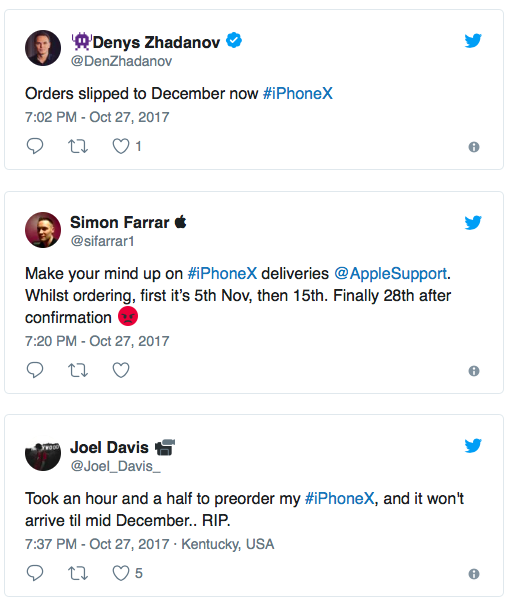 Meanwhile Tim Cook plays dumb
Meanwhile Tim Cook gets first prize for mealy-mouthed politically correct responses to the supply issue when he 'answered' analyst's enquires, as reported on 9to5Mac.
Morgan Stanley analyst, Kate Huberty, asked Tim Cook when Apple expects to catch up with iPhone X demand, and the response:
"The ramp for iPhone X is going well, especially considering it being the most advanced iPhone created. Really happy we're able to increase week-by-week outputs. Going to get as many of them as possible to customers as soon possible. I can't predict when that balance will happen"
Cook was then asked for more background on iPhone X pre-orders, including a breakdown on the mix between different models and channels. He wouldn't comment on the breakdown, but did say that iPhone X pre-orders are "very good."
"We never go through mix, but I would share with you that iPhone X orders are very strong for both direct customers and carriers channels throughout the world. We couldn't be more excited to get underway. I think, as of a few minutes ago, the first sale happened in Australia."
Only 2-3 million iPhones available at launch
Respected Apple analyst, Ming-Chi Kuo, from KGI Securities, also predicted buyers may find it tough to secure an iPhone X quickly, as components used to create the big-screen, face-scanning smartphone were more difficult for Apple's suppliers to produce.
Kuo said there may only be between 2 and 3 million iPhone X models available for sale at launch, and supplies would not "ramp up" until November. He predicted 25-30 million would be available for purchase by the end of the year but this is well short of the 78 million devices that sold in Q4, 2016.
---
---
Related Blogs