Hot on the heels of the Samsung combustible battery, comes Apple's defective iPhone 6S battery.
In response to a rising tide of frustration, Apple has this week agreed to replace batteries for Australian users.


Apple has confirmed the issue has arisen with iPhones made between September and October 2015, from a "limited" range of serial numbers.
Apple confirmed reports that devices were unexpectedly shutting down without warning when the battery charge was showing at between 50% and 60%.
The company did not say how many devices might be affected or give a reason for the failure, except to declare it was "not a safety issue."
Owners experiencing the problem have been asked to take their device to an Apple store or reseller to have the serial number checked and the battery replaced if deemed necessary.
Meanwhile Apple sued for "Touch Disease"
Meanwhile Apple has also been forced to acknowledge the existence of a condition affecting some iPhone 6 and 6Plus devices. Large numbers of the devices globally are developing what users have dubbed "touch disease" with the touch screens becoming unresponsive even when the screen has no visible physical damage.
Touch Disease: A grey flickering line has been appearing at the top of the touch screen and the screen becomes unresponsive.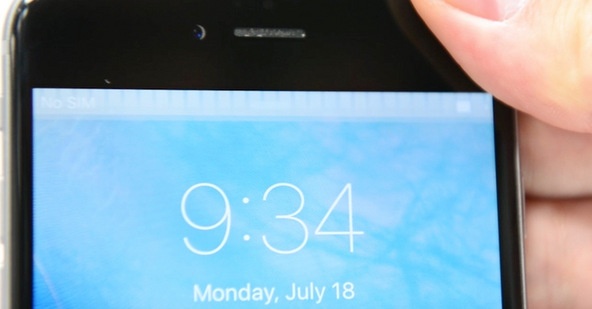 Apple released a statement last week admitting
Apple has determined that some iPhone 6 Plus devices may exhibit display flickering or Multi-Touch issues after being dropped multiple times on a hard surface and then incurring further stress on the device.
Apple is facing a class action law suit in California over what users have dubbed the "touch disease" issue.
Apple has responded by recognising the issue but denying the problem is due to the design of its device. That assertion is disputed by repair websites including iFixit who say the issue is not with the screen at all but with the two touchscreen controller chips, or Touch IC chips, on the logic board inside the phone. These chips become loose or detached from the due to bending of the device.
In Australia, Apple is offering affected customers a fixed-cost repair for A$228.95. It also said it would cover any costs above that amount for customers who have already paid to have their devices fixed.
Although some iPhone 6 customers have complained of the same issue, at this time the repair only applies to the iPhone 6Plus.
Related Blogs
| | |
| --- | --- |
| | VoicePlus solves enterprise mobility problems. We are a managed mobility service provider delivering cost savings and enabling agile, productive teams to Australian business. |