The iPhone 12 is finally official, and it was unveiled alongside the new iPhone 12 mini, iPhone 12 Pro and iPhone 12 Pro Max during the company's virtual October event.
The company has confirmed that the whole range of iPhone products in 2020 is 5G-ready, allowing you to enjoy super-fast download and browsing speeds on your phone.
All four handsets feature a new design, including new colors, and there are a variety of changes to the camera on the rear, the power inside each phone and other features.
Apple iPhone 12 price
The iPhone 12 was launched on October 23rd and you should be able to order the phone directly from VoicePlus.
Apple iPhone 12 price starts at $1,349 in Australia, which is $150 more than the iPhone 11 range. That's likely because of the introduction of 5G technology.
We have the iPhone 12 prices below:
Apple iPhone 12 64GB 5G - $1,349 Inc GST

Apple iPhone 12 128GB 5G - $1,429 Inc GST

Apple iPhone 12 256GB 5G - $1,599 Inc GST
Apple iPhone 12 design & display
The new iPhone 12 features a 6.1-inch display size with a notch at the top of the display. It seems to be the same size notch that we've seen on recent iPhone products.
If you're after a phone with a smaller display you'll be interested in the iPhone 12 mini, and you can read all about that phone in our iPhone mini release date and price article.
The iPhone 12 comes in five colors: black, white, red, green and blue. You can see all those shades in the picture below.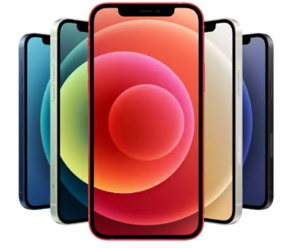 There's an aluminum frame around the outside of the iPhone 12, and the edge looks to be less rounded than on recent iPhones – it's more reminiscent of the iPhone 5S, rather than the iPhone 11 with its rounded corners.
The rear of the phone is made of glass, but Apple was keen to make it clear that this phone is tougher than previous iPhones. It's using a new technology on the front called Ceramic Shield, which it says will ensure your screen is a lot more durable.
How does this work? Corning, the company that makes this shield, has said it's a new material with nano ceramic crystals embedded in the glass that makes a material that looks like glass but has similar strength properties to ceramic.
This doesn't mean you should be throwing your phone around though, as it's unlikely to shield your device from all serious knocks or drops.
The iPhone 12 is 11% thinner, 15% smaller and 16% lighter than the iPhone 11. That means it has dimensions of 146.7 x 71.5 x 7.4mm, and it weighs 162 grams.
That 6.1-inch screen is a Super Retina XDR display, and it has double the amount of pixels as the iPhone 11. It also has a 1200-nits peak brightness, which should mean you'll get a brighter display than on previous iPhones.
As with previous iPhones, the iPhone 12 is IP68 water and dust resistant. There are volume buttons on the left side of the phone, with a silence switch just above those, while the power button is on the right side.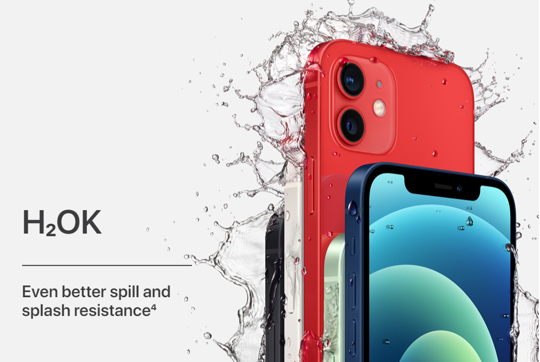 The right-hand side of the phone features a small indent below the power button too, which is a 5G antenna so the phone can connect to networks through its aluminum frame.
Apple iPhone 12 5G & Specs
Weight : 164g
Dimensions : 146.7 x 71.5 x 7.4mm
Display size : 6.1-inch
Resolution : 2532 x 1170
Refresh rate : 60Hz
Pixel density : 460ppi
Chipset : Apple A14
RAM : N/A
Storage : 64GB / 128GB / 256GB
Rear cameras : 12MP + 12MP
Front camera : 12MP
Battery : N/A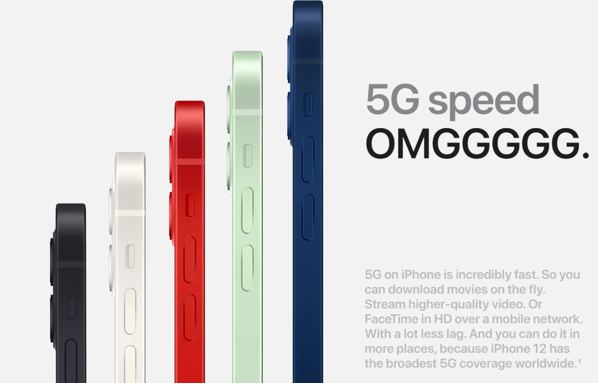 Apple iPhone 12 Cameras
The iPhone 12 comes with a dual rear camera. There's a 12MP wide camera with an f/1.6 aperture, and a 12MP ultra-wide shooter with a f/2.4 aperture and 120-degree field of view.
There's a bigger focus on computational photography with this generation of iPhones, including new Smart HDR 3 tech to help you capture photos with improved colors and contrast, as well as Night Mode improvements.
Apple claims the cameras offer a 27% improvement in low-light performance, which would be quite remarkable considering the iPhone 11 range already offers strong low-light performance.
Existing features from previous iPhones such as Portrait mode, 4K video recording at 24, 30 and 60 frames per second and a digital zoom up to 5x return here for the iPhone 12 too.
On the front of the phone is a 12MP selfie camera with a f/2.2 aperture. We can't say for certain yet, but it seems to be the same front-facing selfie shooter that was on the iPhone 11, and we found that to take good shots and work well for video calls.
This also comes with Face ID technology to help you unlock the phone quickly as there isn't a fingerprint scanner on this phone.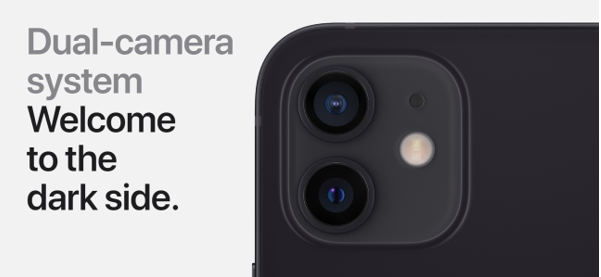 Apple iPhone 12 Battery
We've yet to hear how big the battery is in the iPhone 12, and it's unlikely that we'll learn that stat until someone gets the phone in their hand and does a teardown.
The company claims it'll last for 16 hours of video playback (that's video stored on the phone's memory rather than being streamed) but we won't know the battery life for certain until we've tested the phone.
Fast-charging is available on the phone that can get the battery from zero to 50% in half an hour, but you'll need to buy a separate 20W charger to be able to get that feature.
We do know that Apple has improved its wireless charging offering here. The big improvement is called MagSafe, which is essentially a magnet within the phone that allows you to attach a wireless charging pad to the device.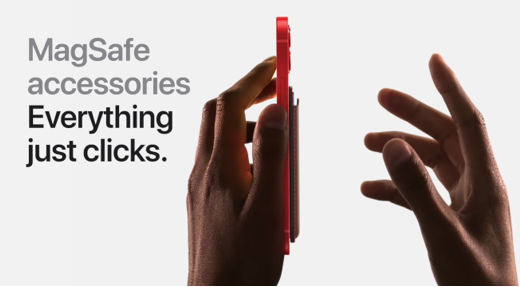 Why would it do that? It's to make sure your phone doesn't slip off of said charger and stop charging when you're using it.
MagSafe charging seems to be faster than Qi wireless charging too. According to Apple's website, MagSafe will use 15W charging, which Qi wireless charging on the iPhone 12 is limited to 7.5W.
The technology also allows accessory manufacturers to make in-car products, cases and more too.
Apple says it'll be creating its own accessories, but we can also expect to see new products from third-party manufacturers, with the company confirming that Belkin is working on accessories already.