Amalgamated councils across NSW are turning to Managed Mobility services (MMS) to deliver automation, security and cost controls across their mobile devices and consumption.

Amalgamated councils inherit legacy mobility
NSW local government authorities who began amalgamating in mid-2016 have inherited disparate mobility infrastructure, multiple carriers and vendors, and varied account and contract terms.
In some cases there is also limited visibility of device ownership and usage, minimal expense management or bill auditing, and siloed asset inventory management.
Understandably, most LGAs have put mobility on the back-burner for the past couple of years as more pressing systems-based mergers have needed to take priority. However, in 2019, some LGAs are now moving to review their mobility space and are turning to an outsourced managed mobility service (MMS).
Merged Councils are prime candidates for Managed Mobility
VoicePlus Enterprise Solutions Executive, Anna Acopian, says merged councils are prime candidates for a Managed Mobility Service.
"IT teams in merged councils have had an enormous workload in the last few years and understandably mobile fleets have been allowed to tick over while more compelling projects have taken priority.

"Now as the merged councils have settled into an operational rhythm, some are stepping back and taking a closer look at the security, costs and management of their mobile endpoints. There is a clear opportunity to automate operational tasks, reduce IT workload, secure devices, and deliver cost savings.
Workload and security key concerns
The key issue for many council IT teams who are responsible for mobile management is the operational workload. While some tasks like device configuration and application management are part of the IT skill set; others such as device procurement and supply, carrier connections and disconnections, repairs, and end user support are less so; while telecom expense management and carrier bill audit are most definitely not.
In fact most IT teams do not want to manage mobility, according to a Gigaom Research IT Buyers Survey that found most IT managers were in favour of outsourcing "everything" to do with mobility.
Second to workload, another key concern is security. A few LGAs have EMM environments like VMWare AirWatch or Microsoft Intune in place, but most do not.
Research consultant, Gartner, says EMM is the most under-utilised tool in the IT toolbox . Providing visibility, security, low-touch deployment and remote management of devices it is a module of a managed mobility service.
VoicePlus Atrium MMS adopted by councils
VoicePlus has been working with several NSW councils to implement its Atrium Managed Mobility Service.
A MMS environment will deliver immediate productivity benefits and cost savings from the first month of implementation says Anna Acopian.
"The starting point with LGAs is to benchmark and optimise the existing mobile fleet - both assets and expenditure. There are always signifiant cost savings to be gained in this exercise by cancelling redundant services, claiming carrier billing error credits, and updating expensive legacy phone plans. At the same time, there may also be an asset write-off as missing devices become obvious when the asset register is reviewed.

"Once a Managed Mobility SaaS environment is in place, the cost savings are derived from day one through active optimisation of usage - moving users to optimal plans; as well as from billing audits, asset tracking, and automated procurement and lifecycle management.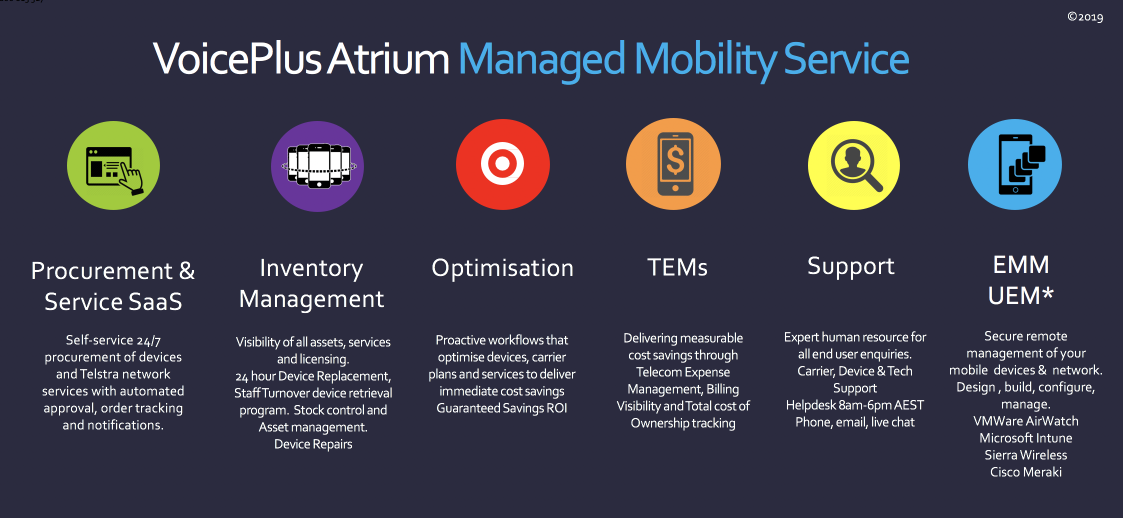 Atrium MMS has proven track record
Atrium MMS, by VoicePlus, was developed in 2013 in collaboration with foundational customer Coca-Cola Amatil (Case Study). It has since been adopted by enterprise customers like CNH Industrial, Penske Power Systems, Compass Group and Weir Minerals.
It has also been awarded global recognition by IT research consultancy, Gartner, in its Market Guide: Telecom Expense Management.