Cisco predicts more people will have mobile phones than electricity, running water or cars
By 2020, there will be 5.5 billion mobile users, representing 70 percent of the global population according to the February 2016 release of the Cisco Visual Networking Index"¢ (VNI) Global Mobile Data Traffic Forecast (2015 to 2020).
5.4 billion people will have mobile phones including "phablets" - a combination of smartphone and tablet features. This is more than will have electricity (5.3 billion), running water (3.5 billion) or cars (2.8 billion).

The adoption of mobile devices, increased mobile coverage, and demand for mobile content are driving user growth two times faster than the global population over the next five years.

This surge of mobile users, smart devices, mobile video and 4G networks will increase mobile data traffic eight-fold over the next five years, according to Cisco.
Asia Pacific has second highest projected growth at 9x current users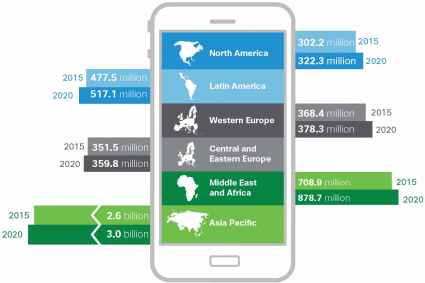 1. The Middle East and Africa (15-fold growth)
2. Asia-Pacific (9-fold growth)
3. Central and Eastern Europe (8-fold growth)
4. Latin America (8-fold growth)
5. Western Europe (6-fold growth)
6. North America (6-fold growth)
Mobile video will have the highest growth rate of any mobile application
Consumer and business users' demand for higher video resolution, more bandwidth, and processing speed will increase the use of 4G connected devices.
4G connectivity share is projected to surpass 2G by 2018 and 3G by 2020.

4G will represent more than 70 percent of all mobile traffic, and 4G connections will generate nearly six times more traffic per month than non-4G connections by 2020.
Wi-Fi Hotspots will grow 7x by 202

Globally, total Wi-Fi hotspots, including home spots, will grow 7x from 2015 (64 million) to 2020 (432 million). Globally, home spots will grow from 57 million (2015) to 423 million (2020).

In 2015, monthly Wi-Fi offload traffic (3.9 exabytes) exceeded monthly mobile/cellular traffic (3.7 exabytes) for the first time.

By 2020, 38.1 exabytes Wi-Fi offload traffic will be generated each month, continuing to exceed projected monthly mobile/cellular traffic (30.6 exabytes)

Source: Cisco Visual Networking Index Global Mobile Data Traffic Forecast Update, 20152020.