Technology advances, including the cloud and embedded connectivity modules with very small sensors, are enabling companies to use the internet to collect real-time data from a growing number of various "things" – including industrial air compressors, truck trailers, tower lighting systems and jewelry.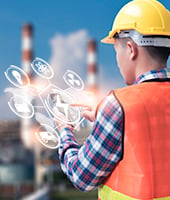 These connectivity solutions have given rise to a range of use cases, leading to improved performance, new business models, and reduced costs. However, as discussed in our white paper, How to Get IoT Connectivity Right, for many companies, complexity is proving to be a key obstacle to rolling out new IoT applications.
IoT Application Deployment Comes with Confounding Complexity
On the technology side, companies are struggling with interoperability of the hardware, software, and services that must work together seamlessly to make an application successful.

Many companies underestimate the challenge of ensuring the right level of connectivity across different regions, service providers, and connectivity plans. It is also difficult to ensure the security and privacy of data moving across multiple systems and platforms.

On the business side, complicated development processes, potentially high maintenance costs, and the cost and complexity of overcoming incomplete network coverage can make it difficult to determine the total cost of ownership (TCO) of an IoT application and convince business leaders that the application will deliver the expected return on investment (ROI).
Sierra Wireless Ready-to-Connect Solutions Can Smooth the Path Forward
A key factor in addressing these challenges is choosing the right IoT connectivity solution for ensuring reliable, high-quality connectivity and preventing sensitive data from falling into the wrong hands.

An IoT connectivity solution should ensure consistent coverage in all required regions, integrity of data as it moves from the edge to the cloud, sufficient scalability for the long term, ease and speed of deployment, and a single, robust management system for the entire deployment.

Sierra Wireless Ready-to-Connect solutions address many of these connectivity challenges, simplifying and speeding IoT application deployment. They remove the main barriers to a successful IoT deployment in several important ways.

Ready-To-Connect solutions—embedded modules and routers with pre-integrated Smart SIM and Connectivity Services—provide reliable, global IoT connectivity, allowing businesses to use the same solution wherever they want to deploy.

To simplify the IoT journey, each Ready-to-Connect solution comes with built-in security and is natively managed using the Sierra Wireless AirVantage® IoT Platform.

Together, these aspects of Ready-to-Connect solutions simplify and speed IoT application deployment in the following important ways:
#1: Simplified Development
Of all the steps required to deploy a typical IoT application, integrating all the hardware and platform components is often the most complex and time-consuming. Ready-to-Connect solutions streamline IoT application development by allowing IoT teams to skip many of the most complicated, time-consuming integration steps.

Ready-to-Connect solutions include pre-connected modules and routers, all equipped with an integrated global eSIM. IoT teams can use the Sierra Wireless AirVantage IoT Platform to securely manage the solutions' devices, connectivity, and application data.

Ready-to-Connect modules and routers provide instant access to global mobile services at power-up, and all the components are pre-tested and network certified, so they're ready to start delivering data to the cloud as soon as they're activated.

This simplified development process accelerates time to value and increases ROI. Sierra Wireless estimates that the intelligence and pre-configuration built into Ready-to-Connect solutions can slash the average time required to go from concept to connected product from 24 months to 12.
#2: Unified SIMs, Subscription, and Device Management
Many IoT use cases require connectivity in a number of different geographies. This makes it extremely difficult to use traditional, network-operator-owned SIM cards, which require dealing with different cellular network providers and different implementations of connectivity protocols.

This is where smart connectivity solutions come into play.

Sierra Wireless offers global connectivity across multiple networks in each country, along with a mechanism to select the best available connection. All new devices and SIMs bundled with Ready-to-Connect solutions are paired and pre-declared into the platform when shipped. In addition, companies can use the Sierra Wireless AirVantage IoT Platform to manage all Ready-to-Connect solution SIMs, subscriptions and devices out of the box, through a single interface. In this way, Sierra Wireless makes cellular connectivity as easy to set up and manage as Wi-Fi connectivity.
#3: Robust Security
IoT security needs to be a continuous thread running through the entire solution, from development to operation. However, adding the necessary security measures to an IoT application composed of hardware, software, and networks from multiple vendors is complex and can easily result in security gaps.

As a bundled, pre-configured solution, Ready-to-Connect ensures the appropriate level of security using a layered approach with different security mechanisms built into every component of the solution – including device, network, and cloud. This end-to-end security approach helps eliminate any development, configuration, and inter-operability gaps that can lead to vulnerabilities.

For example, Ready-to-Connect solutions implement a secure device-to-cloud communication channel, which ensures that devices can be remotely managed in a secure manner and guarantees the confidentiality and integrity of all data exchanged between the device and the cloud.

Ready-to-Connect solutions provide robust security, reducing the areas at risk of attack by encrypting information sent from devices in transit and integrating the Smart SIMs to prevent physical tampering.
#4: Streamlined Operations
One of the key advantages of Ready-To-Connect is enabling customers to deal with a single supplier when building the connectivity layer of their IoT application.

Sierra Wireless provides a single point of management to support any IoT deployment, whether it's a global deployment using Smart SIMs, a U.S.-based service using Sierra Classic SIMs, or even a deployment taking advantage of a company's legacy SIMs and existing relationship with a carrier.

This single point of management eliminates all the time and complexity of having to deal with different mobile network operators (MNOs) and mobile virtual network operators (MVNOs), as well as having to manage a number of different SIM cards and platforms.

Sierra Wireless Smart SIM technology also makes it easier to switch cellular providers remotely when necessary. The AirVantage IoT Platform provides a single, intuitive and robust interface for managing the entire connectivity lifecycle, including SIM ordering, activations/deactivations, monitoring, activity alerting, billing, and device management.

With Ready-to-Connect solutions, there's one connectivity provider for global service access, IoT hardware, and support—with one service level agreement (SLA) for the entire device-to-cloud solution. Connectivity solutions don't come easier than this.
#5: Flexible Pricing
When building and deploying an IoT application from scratch, companies will need to acquire various products and services used to enable connectivity – including connectivity hardware and cloud services – from different suppliers, using a mix of up-front and recurring costs.

This approach can make it virtually impossible to understand what the eventual cost structure will look like.

By contrast, because Ready-To-Connect solutions include all the hardware, software, global mobile subscriptions, and platform services needed for a complete IoT connectivity solution, it can be customized to suit a specific company's technical and pricing requirements.

Take the example of a startup company: it may require a pay-as-you-go model, while a utility company may prefer a single 10-year connectivity contract to maximize government funding. Whatever the situation, Ready-to-Connect solutions makes TCO and ROI projections far easier.
Minimize Your IoT Application Deployment Challenges
Every IoT deployment will involve some technical and operational challenges. However, it is possible to minimize these challenges by partnering with a single company that has leveraged decades of IoT experience to offer an integrated, secure connectivity solution that reduces complexity and makes every step of the development and deployment process easier to manage.

With Sierra Wireless Ready-to-Connect solutions, you can far more quickly and easily create a future-proof connectivity layer that will protect your investment by supporting the future growth of your IoT application, even as IoT technologies continue to evolve. Read our white paper, How to Get IoT Connectivity Right, and Start with Sierra to learn more about how the right connectivity solution can help you reinvent your busines