Google has used its search data to make three predictions for technology in 2015.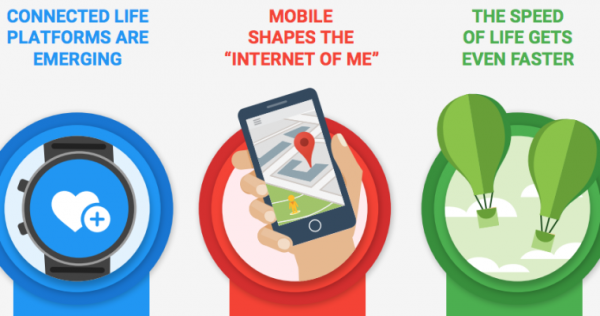 The Internet of Things is officially a thing! Cisco predicts 50 billion connected devices by 2020.
As devices and applications proliferate and start to work together, connected objects will become platforms for everyday life - from entertainment, to driving, to taking care of your home.
In 2015, connectivity will be the default in the products we use most.
Supporting this premise, Google points to the following search data trends:
4.9 billion connected things will be in use globally in 2015, up 30% year on year.

Google searches related to The Internet of Things grew 2.5x in 2014
Google searches for wearable tech grew 3x in 2014
Google searches for smart TVs increased by 28%, surpassing other popular TV specs
1.6million hours of video about connected car platforms were viewed on YouTube in 2014
Google searches for smart lightbulbs were up 33% in 2014
Take Outs for Business
Connected objects will create more data. Business will need more data. Everyone will need more data!

Mobility is all about data, and very little about voice

Use data-driven insights to up your customer service game

Make recommendations based on preferences
The Internet of Things is becoming The Internet of Me, according to Google.
Google has highlighted the continuing use of smartphones in 2015 as the hub for Connected Life Platforms.
This means the smartphone will be the central device used to access data for the creation of better, personalised experiences.
Google points to the following search data to justify its prediction:
1.3 billion smartphones will have shipped globally in 2014
Across the globe, consumers aged 18-45 are spending more time consuming media each day on smartphones than they are on TV, tablets or laptops
1 in 5 searches on Google are related to personal location
Searches for "nearby" have grown 5x since 2011 as consumer search for what's around them
Take-Outs for Business
The mobile device is the remote control for our lives.

Make sure consumers have a great experience with your brand on their smartphone.

Use context to make your brand even better - relevant to location, local inventory, one-click ordering
Immediate access to information online is making us spontaneous and instant decision-makers.
These quick moments of decision-making happen constantly and will increase the more connected we become.
On-demand is not just for the web anymore. Google searches for same-day delivery doubled from February 2010 to February 2014

800,000 hours of drone videos were watched on YouTube in November 2014

Google searches for drones - remote control flying vehicles equipped with cameras - grew by 270% in 2014

"Take Me Home" - the Google App - gets 30x as many action queries by voice as by typing (and it sends automatic alerts if there's a traffic jam on your route and provides an alternative route)
Take Outs for Business
Customers expect to get what they want in the moment they want it
Aim for instant gratification for your customers
Make interactions FAST, simple and easy